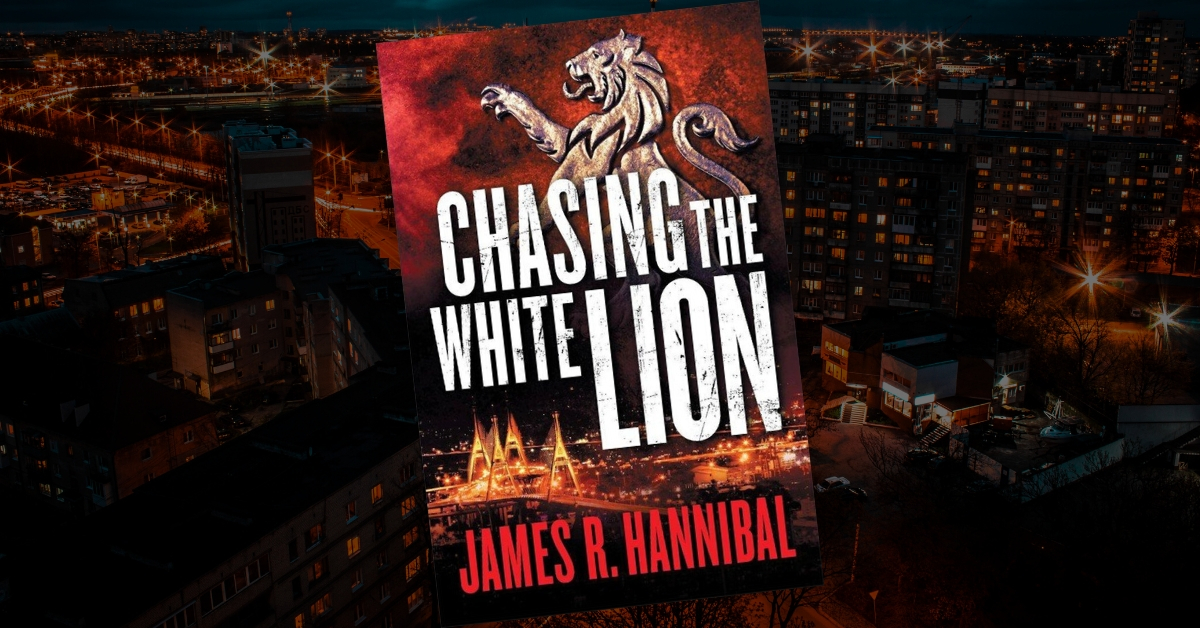 Here at Christian book, spring time is one of our favorite times of year. The birds are singing, flowers are blooming… and a whole host of new fiction releases hit our desks!
Among those new titles will be this thrilling new read from James R. Hannibal – the author of last year's bestselling title, The Gryphon Heist. In the new book, Chasing the White Lion, readers are reunited with CIA officer, Talia Inger. In this book we see Talia receive her plum assignment – Russia! But it doesn't come without a hitch… she must work with the man who assassinated her father. Together they must infiltrate the first-ever internet crime syndicate, capture its boss, and rescue a group of kidnapped refugees. Phew!
If you love a suspenseful read that will have you feverishly turning the pages from start to finish, then Chasing the White Lion is for you! Want to know a little more about the inspiration behind the book? Read on for a Q&A with author James R. Hannibal.
Q: As a former tactical deception officer offer and stealth pilot, you have experienced your share of danger and intrigue. How does your past experience affect your books?
A: In thriller writing, a classified past is both a blessing and a curse. I've had amazing experiences I'm never allowed to speak of in public, and those hidden experiences meant my first three novels had to pass through multiple program security offices because publishers could ever see them. However, even though I can't talk about my real experiences, I can draw from them as I write, giving me an edge. Research is a little easier too. Any writer can find the information I put into my stories, but it will be a difficult hunt. I have the unfair advantage of knowing which rocks to overturn.
Q: Can you provide a brief description of your new book, Chasing the White Lion?
A: CIA rookie Talia Inger returns to infiltrate the world's first crowdsourced crime syndicate, known as the Jungle. But venturing into the Jungle with Tyler and Talia's grifter friend Valkyrie means venturing into a past she's been trying to avoid. The truth about her father may reveal enemies close to home. Also, the deeper she goes into the Jungle's darkness, the more the line between right and wrong blur. Talia must learn to trust God and her team, and she must help Valkyrie see that even in the darkest shadows, no one is beyond the saving love of Christ.
Q: In Chasing the white Lion, you take readers deep undercover into the criminal underworld where the main heroine, Talia, hopes to rescue kidnapped refugee children from a human trafficking network. How did you come up with the plot for your book?
A: Compassion International's mission of empowering impoverished children inspires me. Compassion gives children hope, dignity, and identity. These are in short supply in border refugee camps where neither nation wants to recognize a child's existence. That lack of identity makes these children prime targets for criminal enterprises. I wanted to bring this to light and bring to light the power of Compassion's work. By extension, every sponsor is as much a hero as Talia. In essence, the crime syndicate in my story will learn that they messed with the wrong kids.
Q: Talia is not only a CIA officer, but she is also in charge of an elite team of thieves. What type of research was required to accurately portray her role?
A: Thieves and magic go hand in hand. I am bound by a nondisclosure, but I can say that my research on this story led me to an opportunity for remote study with a pair of the most famous magicians in the world. What I learned about deception and misdirection became key pieces of the adventure.
Q: What do you hope readers will gain from reading Chasing the White Lion?
A: My ultimate hope is that readers will see the power of child sponsorship and choose to become heroes themselves through Compassion International or some other child sponsorship program. Beyond this, I hope that Talia and Valkyrie will help readers see that we can trust in God for all things – anytime, anywhere – and that no one is beyond the saving love of Christ. He is reaching out. Simply take his hand.
Q: Who is the target audience for your book?
A: The target audience for this story is adult thriller-lovers, leaning toward new adult. The story focuses primarily on characters in the millennial age range, and I hope their battles, frustrations, and triumphs will connect with millennial readers.
Q: What are you working on next?
A: The story I'm working on now is a spy-left-out-in-the-cold story loosely related to the biblical story of Job. I am incredibly excited about this story and the message it holds.
(Visited 1 times, 1 visits today)