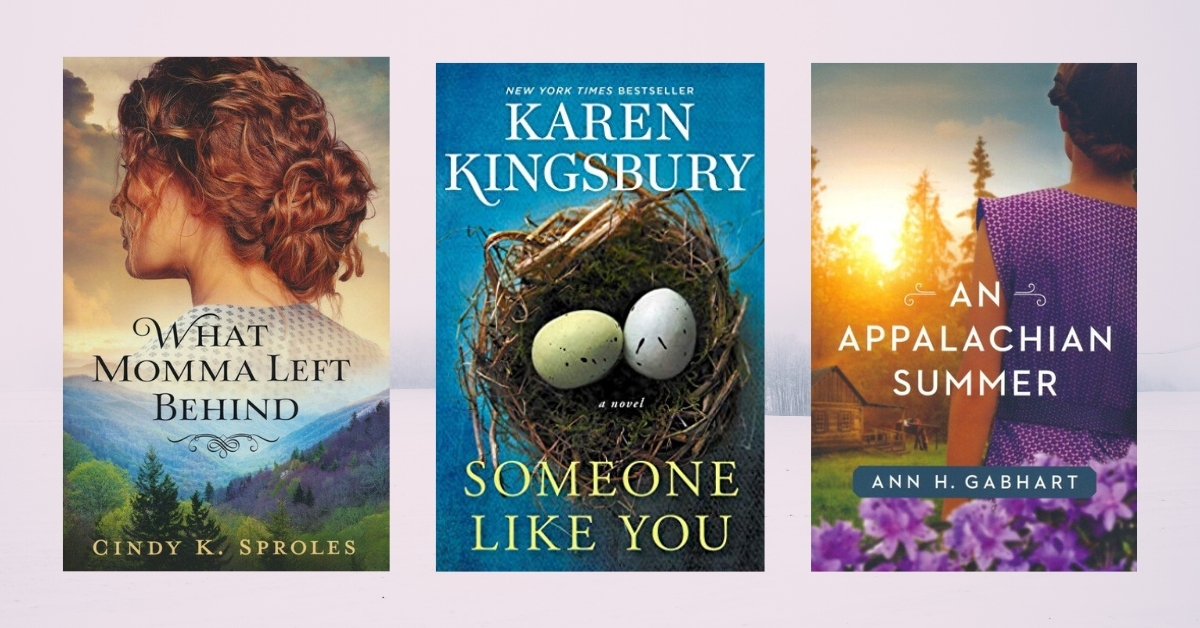 What could be better than picking up a new fiction book on a hot summer day?! We love nothing more than finding a cool, shady spot, filling a glass full of iced tea and just escaping into another time or place with our favorite Christian authors!
If you find yourself looking for a new book to read this summer – you're in luck! We've had so many new books arrive here at Christianbook, and we can't wait to share some of our favorites with you.
In this list, you'll find books from beloved Christian authors such as Karen Kingsbury, Lauraine Snelling, Tracie Peterson and more.  Whether you are looking for a suspense, a romance, or historical novel, you'll surely find your next great read here!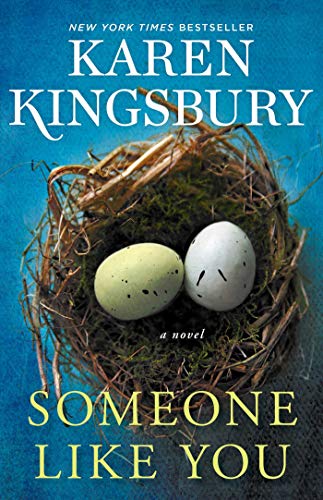 One frozen embryo. Two families with life-long secrets. And a guy who never planned to fall in love again. Karen Kingsbury returns to her beloved Baxter Family series with new release Someone Like You.
Maddie Baxter West's life is turned upside down when she finds out she was adopted as an embryo. Confronted by a total stranger about this truth and subsequently told she has a sister she never knew about, Maddie is left feeling betrayed. Dawson Gage (the aforementioned stranger) comes into Maddie's life after the only girl her ever loved – London Quinn – is killed. London's mother reveals to Dawson that she may have a sister, telling him of the frozen embryo they donated years before. When Dawson and Maddie's world's collide, sparks fly. She moves to Portland, where the Quinn's live, and is given a glimpse into the life she may have had. But will she find her way back?
Even if you are not familiar with the Baxter Family, we're sure you'll still enjoy this book. If you love it, there are 29 other books in the Baxter Family series you can get reading once you're done with this… that's got to be a book lovers dream!
5-Star Customer Review:
I always say each book I read by Karen Kingsbury is her best, but they just keep getting better.

So many emotions in this book make for incredible reading. I couldn't put it down until it was finished. Now I can't wait to see what the next installment will bring.

Feelings of betrayal, death, grief, a social issue you don't give much thought to, until you actually know someone who has participated in in vitro fertilization/frozen embryos, forgiveness and finding one's self are huge topics in this book, which I highly recommend. – sgreene01, July 2020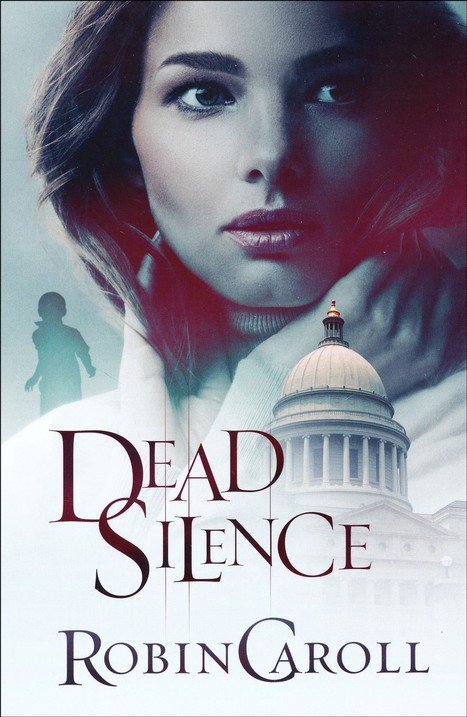 Always on the lookout for the next great read that will have you on the edge of your seat? Robin Caroll's latest release is the book for you!
Dead Silence introduces readers to court sign-language interpreter, Elise. As a widow with a young deaf son, lip reading is second nature to Elise… so when she sees someone on the phone threaten a senator's life she is shocked. But things get even more personal when it turns out that senator is also her mother-in-law. Before she can decide what to do, she receives information that her son is rushed to the ER and she must leave. When she later finds out her mother-in-law has been shot and killed Elise is floored. If Elise comes forward with the information she has about the killer, will she put herself and her child in the assassin's crosshairs?
This fast-paced novel is full of plot twists and turns that will have you eagerly turning the pages. There's tragedy, mystery, grief, fear… phew! This book has it all. Prepare yourself for a rollercoaster ride when you crack the spine on this book!
5-Star Customer Review:
I really enjoyed reading this book. I love mysteries and this was a good one. The characters came to life and made you care for them and what they were going through. I thought I knew what was going to happen next but the author was not so predictable and that made the book even better. I would definitely recommend this book and any others written by Robin Caroll. – rhondaryser, June 2020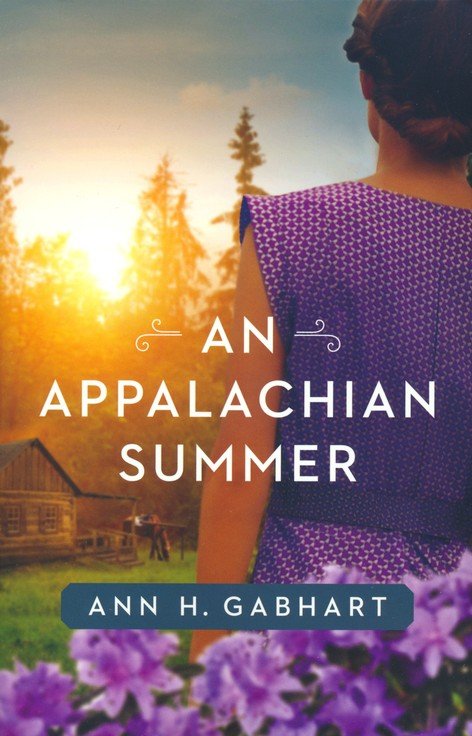 Fancy being whisked off to the breathtaking Appalachian Mountains this summer? Well, even if you can't be there physically, Ann H. Gabhart has you covered in the literary sense with her latest release!
An Appalachian Summer whisks us off to the late-1920s, just after the market crash sent the country's economy into the downward spiral that led to the Great Depression. Our protagonist, Piper Danson, is wary of flaunting her family's wealth while so many suffer – even though her family insist on hosting her debut party. Deep down, Piper wants a meaningful life. Which is why she jumps at the chance to volunteer with the Frontier Nursing Service when the opportunity arises. Her volunteer position whisks her away to the Appalachian Mountains where she falls in love with more than just the scenery.
If romance and adventure are your kind of genres, you're certainly going to enjoy this book. Gabhart expertly weaves a beautiful story of a woman yearning for love, but caught between two worlds. Full of rich detail of vivid surroundings, readers can't help but be pulled into this story.
5-Star Customer Review:
Yet another wonderful story from Ann Gabhart! In this book, she takes us back to Hyden with the Frontier Nursing Service. This time we meet a debutant fresh from her coming-out ball who winds up mucking stalls in the Appalachian Mountains while running from the man she doesn't want to marry. It's a fun cast of characters who will tug at your heart – and surprise you! – throughout the story. I'm a long-time Ann Gabhart fan and this one certainly doesn't disappoint. – Pegg Thomas, July 2020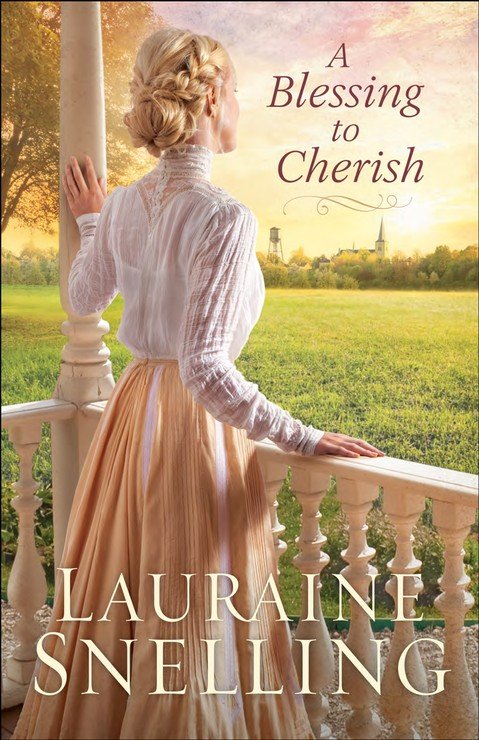 Historical fiction lovers, rejoice! We have picked another great historical read to transport you back in time.
A Blessing to Cherish introduces readers to widow, Ingeborg Bjorklund – a woman who, after going through years of hardship, has reached a place of contentment. She is blessed with a wonderful son (also widowed), two grandchildren, and the entire Blessing, North Dakota community she is proud to call her friends. However, there is one friendship in her life that seems to be changing. This change will force her to decide if her settled, predictable life is worth more to her than a future she hardly dares to imagine.
Author Lauraine Snelling is well-known for crafting wonderfully rich storylines, and this book does not disappoint! A Blessing to Cherish is full of wonderful romance and characters you'll surely fall in love with – it's a not-to-be-missed read.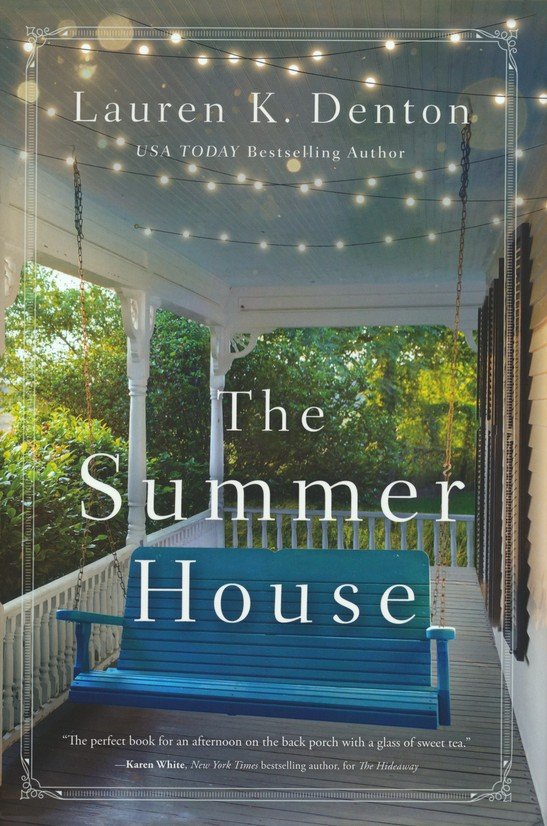 Now back to the modern era with a contemporary read from bestselling author, Lauren K. Denton! The Summer House is a delightful gem of a book that weaves the authors Southern charm around a women's journey to find herself.
When Lily Bishop wakes up one morning to find a goodbye note and divorce papers from her husband, her world is shook. As a newcomer to the town, Lily is in need of a job to sustain her – which is when she sees an advertisement for a hair stylist position in the Safe Harbor retirement community. The owner of the retirement community, Rose Carrigan, is a woman who is used to keeping people at arm's length. But when Lily shows up looking for a job, she begins to warm to her. An unlikely friendship between the two women forms as Lily's salon becomes the place for colorful residents to share gossip and stories.
Might there even be a new relationship on the horizon for Lily with Rose's nephew? We urge you to pick up this book and find out more as your drawn into the wonderful community of Safe Harbor and its residents!
5-Star Customer Review:
Delightful story surrounding the lives of Lily and Rose generations apart but united by the life experiences and the drive to make something good out of it. The camaraderie between them was amazing and beautiful. First of Lauren Denton I am reading. Beautiful story and even amazing setting. – Ebos Aifuobhokhan, July 2020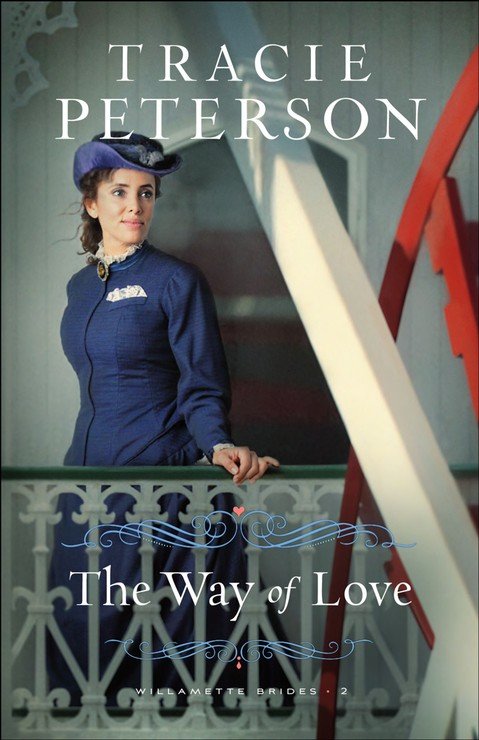 Let's step back in time again! This time with a read from renowned author of books such as Refining Fire and Under the Midnight Sun, Tracie Peterson.
The Way of Love is the second book in the author's Willamette Brides series and introduces us to Faith Kenner – a woman pursuing her dream to become a doctor. Her dream is to use her gift to help those in need – most especially the native populations forced onto reservations and neglected. When she meets Andrew Gratton – a handsome riverboat captain whose wounds she tends to –  a friendship grows between them. But Faith holds a secret that means their friendship can never become anything more. So, she attempts to bury her feelings as best she can.
All the while, Faith finds herself caught in the middle of a plot to push the local Indian tribes to rebel. As she and Andrew fight for the rights of others against Oregon's racist laws, their love for each other grows. Will Faith's secret continue to stand in the way of their love? Well, there's only one way to find out! This is a book that just does not disappoint – we think it's the perfect blend of history and romance.
5-Star Customer Review:
The theme of respecting God's sovereignty, and maintaining one's faith, while in the direst of circumstances is well developed in this story. There were many times when Faith, who was particularly well named, must live by faith and not by sight, when there is actually no hope to be found. While all fans of historical fiction will enjoy The Way of Love, it will speak to the hearts of those who are desperate for this type of faith. – Pegg Thomas, July 2020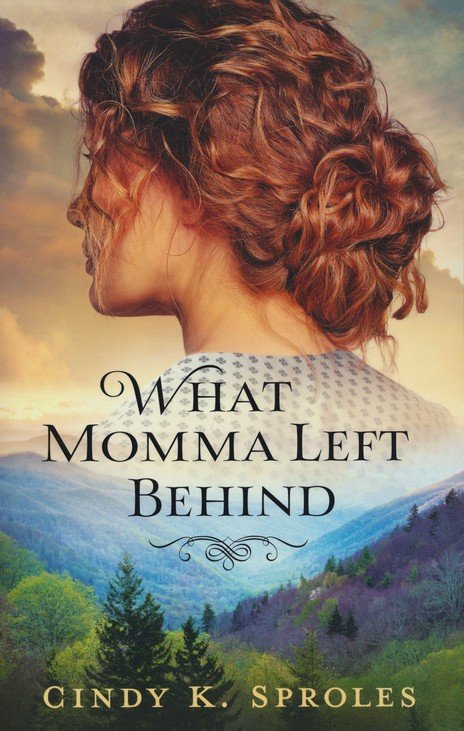 Did you think we were done with the Appalachian Mountains? Not yet, dear reader! Cindy K. Sproles' latest release takes us back to this wonderful part of North America – but this time, back in the 1800s.
What Momma Left Behind is a novel all about sacrifice, heartache, and bravery. The community of Sourwood, Tennessee, has been ravaged by death and disease, leaving many children orphaned. When Worie Dressar's mother dies suddenly, Worie finds herself inundated with orphaned children who keep showing up at her door. Barely surviving herself, Worie must figure out how her mother was caring for these children. Of no help to Worie are her good-for-nothing brothers who only add to her woes. Fighting to save her home, and the orphaned children now in her begrudging care, Worie will learn the power of unconditional love and forgiveness.
Through Cindy's words and storytelling, you'll find yourself immersed in this poverty-stricken community in the Appalachian Mountains. It's a truly delightful read – Worie is such a powerful and lively character, it's hard not to be drawn into her story!
5-Star Customer Review:
I loved everything about this book! It starts off with tragedy and with traditional mountain life style, she doesn't even have time to grieve. She gives of her self and cares for those around her. She surpasses her family background and gives her brothers chance after chance to get it right. I finished this book in a couple of days. There were so many twists and turns in the story line, that it was hard to put down. – Ains007, June 2020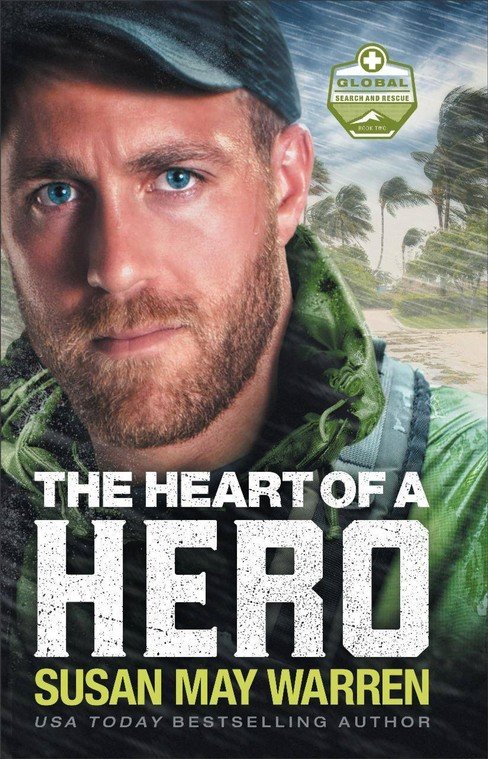 Love a little action in your fiction books? Susan May Warren is the author for you! The second book in the Global Search and Rescue Series has just released – and boy, is it good!
The Heart of a Hero goes deeper into the life of Jake Silver – one of the characters from the first book in this series. Jake is a man who is battling traumatizing memories that resulted from his career as a former sniper and Navy SEAL. As part of the Jones, Inc. rescue, Jake is able to utilize his skills to rescue and save the lost and injured. There's one particular rescue he can't quite get out of his mind – the rescue of pediatric heart surgeon, Dr Aria Sinclair. Aria herself, finds Jake exciting and handsome – but he's also dangerous – and she refuses to take the risk of loving again. When a deadly hurricane threatens to put Aria in the path of danger once again, Jake can't help but jump on a plane to rescue her. With their very survival in the balance, can they hope for a second chance at life . . . and love?
The characters in this book are so wonderfully written – they each face emotional and spiritual issues that must be overcome so that they can move forward. You can't help but fall in love with them both! We are pretty certain you'll be left eagerly awaiting the release of the next novel in this series once you're done with this book!
5-Star Customer Review:
I laughed, I cried, I held my breath, sat on the edge of my seat and I loved this book! The characters are fantastic and the story sucks you in and takes you on a roller coaster ride. I loved the way faith and romance were gently woven into this super suspenseful story. Ten stars! – Katie Poole, June 2020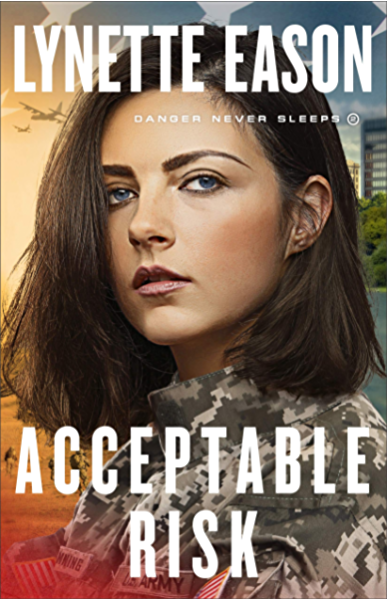 A hostage situation. A risky rescue. Family tragedy. Just a little romance. The latest release from Lynette Eason has it all!
In Acceptable Risk, military journalist Sarah Denning agrees to teach at a school in the Middle East. When the school is attacked, she is taken hostage. Her father,  a high-ranking military general,  plans a risky rescue mission with the help of former Army Ranger Gavin Black. But, even once the mission is successfully complete, Sarah's life doesn't quite get back to normal.
As soon as she returns, she is discharged from the Army as a result of a false psychiatric evaluation. She is determined to return to the Army, but her plans are delayed when she learns of her brother's suicide. Unable to believe that he would do such a thing, Sarah enlists Gavin's help to discover the truth. But what she uncovers may be the biggest story of Sarah's career—if she can survive long enough to write it.
This one is a real nail-biting read – we're certain you'll be turning the pages on this book long into the night!
5-Star Customer Review:
Eason is one of my favorite authors. I have loved every book I've ever read by her. This one was no different. The characters are flawed but relatable. There's a mystery to solve; some twists and turns along the way; and a ton of action, danger, and suspense. – Reenie, July 2020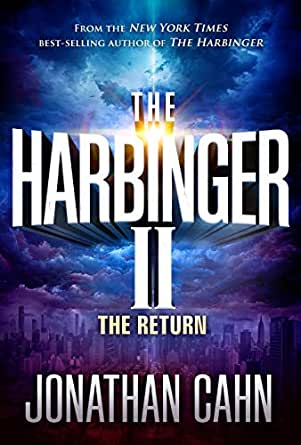 Are the unprecedented crises of our times, the signs and warnings of coming judgment?  Does an ancient mystery hold the secret to the events of our times, and the future of America and the world?  Is this mystery even behind the shakings that have now overtaken the world and America? How much time do we have left?
These are the questions Jonathan Cahn aims to explore in his latest release, The Harbinger II: The Return. This sequel to the bestselling book The Harbinger is being hailed as "a prophetic masterpiece" even more powerful and stunning than the first book!
The Harbinger II will open up the mysteries of the Gate, the Watchmen, the Mystery Ship, the Word in the Ruins, the Book of Days, the Image, the Judgment Tree, the Children of the Ruins, the Convergence, the Handwriting on the Wall, and much more.  It will ultimately reveal the mystery of what is yet to come, including the Shakings, the Plague, the Western Terrace, the Island, the Day of the Watchman, and more.
After reading The Harbinger II, you will never see the world the same way again!
(Visited 1 times, 1 visits today)