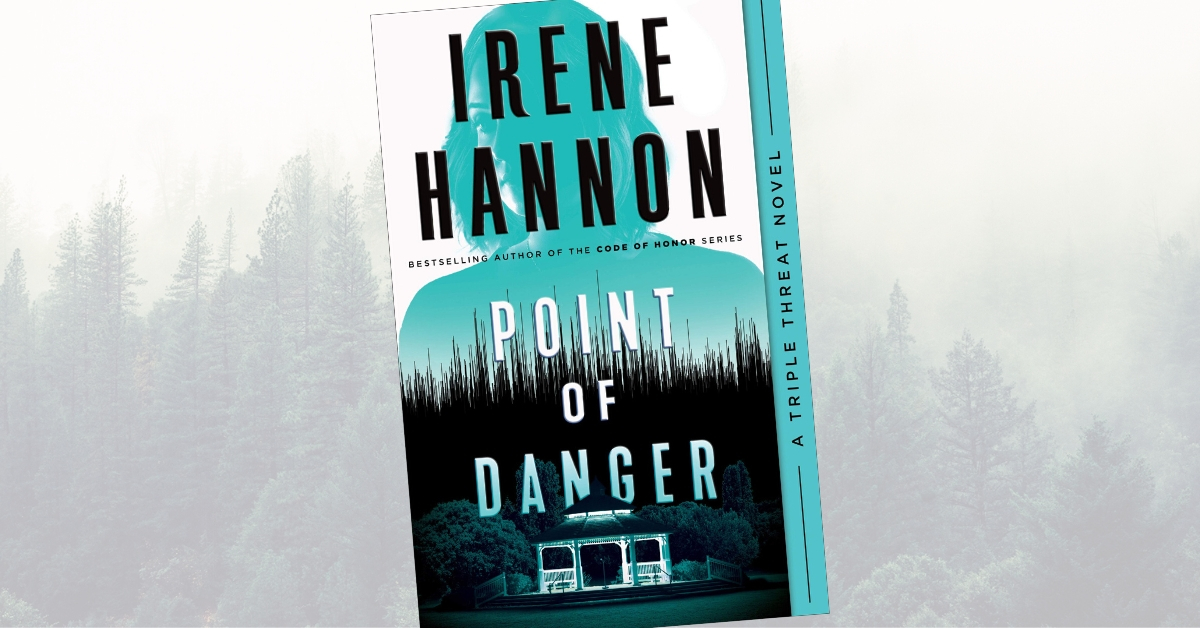 If you are a fan of a suspenseful read with a touch of romance, then we're sure you must already be an Irene Hannon fan! But, if you have somehow missed Hannon's incredible reads so far, then you are in for a real treat. One, you have quite a number of reads to already jump straight into! But two, she'll be releasing a new book, the first in a new series, this October. This gives you plenty of times to get through Hannon's back catalog!
Point of Danger is the first book in the Triple Threat series and is guaranteed to be a real page-turner that will have you guessing right until the end. Irene Hannon kindly answered some questions about her latest release as well as what is coming next. Read on for a little insight!
Q: Can you provide a brief description of Point of Danger?
A: My newest novel features a strong-willed heroine who's determined to stand up for her principles no matter the danger, and a police detective who has to find her unknown foe fast – or lose the woman who's stealing his heart. In true Hitchcock style, the tension intensifies throughout the book, leading to an explosive conclusion.
Q: Point of Danger is the first book in your new Triple Threat series. What ties the three books in your series together?
A: The series features three sisters involved in the truth-seeking professions who are plunged into dicey situations that lead to danger – and romance.
Q: The main protagonist, Eve Reilly, is a controversial talk show host. What type of research was required to accurately portray her role?
A: Online research primarily… plus my own experience in listening to talk radio – and being a guest on a number of programs!
Q: You have stated that you prefer to focus on psychological suspense and character development in your books – a style that resonates more with Alfred Hitchcock rather than a James Bond style of narrative. What led to this preference in your writing style?
A: My undergraduate degree is in psychology, so I've always been fascinated with the workings of the human mind. That's why, in all my suspense books, I take readers into the villain's head. The whole cat-and-mouse game they plan intrigues me. Knowing what the villain is planning, and watching that unfold in spider-spinning-a-web fashion is far more enthralling, suspenseful, and mentally engaging to me than constant car chases, shootings, explosions, etc. The human mind is much scarier than an action sequence!
Q: What do you hope readers can take away from your book?
A: Admiration for the heroine, who's willing to stand up for what she believes in no matter the cost – and encouragement to do the same; a better appreciation for the tremendous power of love to transform lives; and a healthy dose of hope. I want readers to close the book believing that no matter how bad things get, there's always the possibility of a happy ending.
Q: When is the next book in your Triple Threat series scheduled to release?
A: Book 2 will release in October 2021 and features Cate, the oldest sister, whose job as a police detective takes her on a dangerous undercover assignment.
Q: Library Journal has referred to you as the "queen of inspirational romantic suspense." However, you are also known for your contemporary romance books, which is where your writing originated. Can you please provide a brief glimpse into your writing history?
A: As you noted, my first published books were contemporary romances. However… my first attempt at fiction was romantic suspense. And it was really, really bad! Why? Because there was no internet (yes, it was the dark ages!), so research was difficult to do. I also didn't have any contacts in law enforcement of the military, and to write credible suspense you have to have access to data and experts. Most books in this genre require quite a bit of technical knowledge. So, I put romantic suspense aside for many years. By the time I began writing fiction full time, the internet was around and I had a contact in law enforcement. So, I decided to give romantic suspense another go. It was successful beyond my wildest dreams. Now I alternate between the two genres.
Q: What are you working on next?
A: My next novel will be Book 7 in my Hope Harbor series. It's called Blackberry Beach and will be out April 2021. I'm so gratified that readers have embraced my little Oregon seaside town and keep asking for more stories!
(Visited 1 times, 1 visits today)