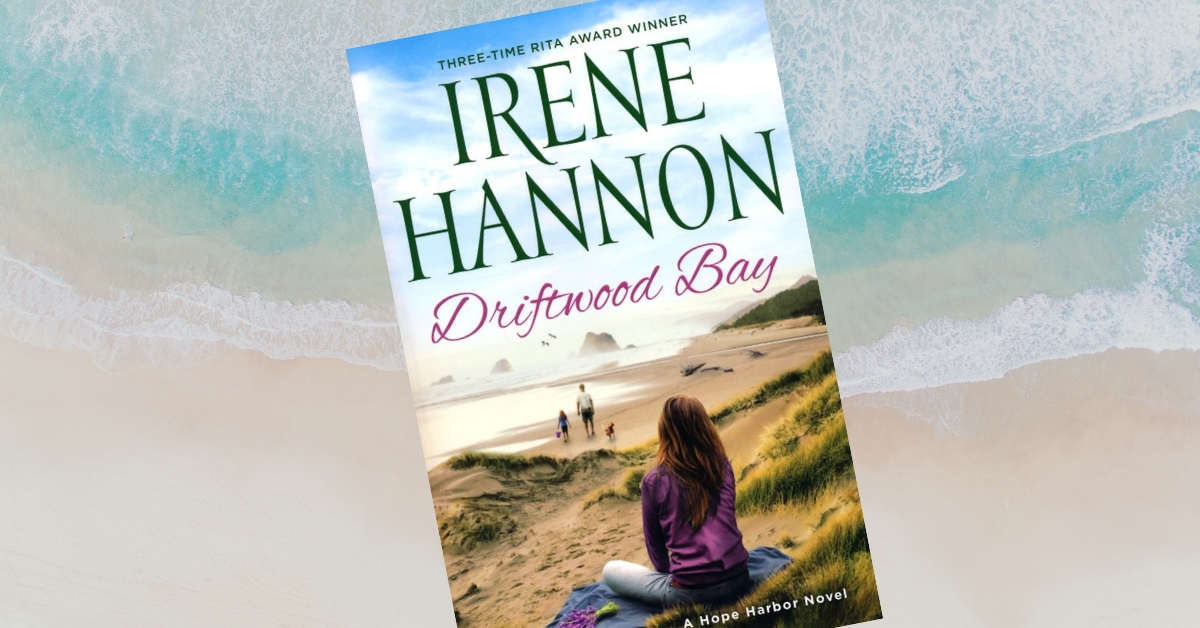 Have you been eagerly anticipating the latest installment in the Hope Harbor series? Well, the wait is over! Driftwood Bay, the fifth book in the series is now on our shelves.
This book tackles some very difficult issues and emotions and will have readers hooked from start to finish – in typical Hannon fashion! Irene Hannon sat down to answer some questions about the inspiration behind this book as well as what she is planning to pen in the near future. Here's what she had to say…
To order your copy of Driftwood Bay, click here!
Q: This is your fourth book set in the picturesque seaside town of Hope Harbor, Oregon. Why did you choose this location for your books?
A: I love the ocean, and a seaside setting is conducive to romance. I also love the vibe of small towns. So I took the best of both worlds and created Hope Harbor!
Q: You introduce readers to some new characters in Driftwood Bay. Do you have a favorite character?
A: It's always difficult to pick favorite characters, because they all endear themselves to me in unique ways. As for new characters – all of the main characters in this book are new. Only a few secondary characters reappear from book to book. That's why the books in this series can be read in any order. Each on is a standalone story. I never carry over plot lines from book to book.
Q: One of your main characters, Jeannette Mason, runs a lavender farm and a tearoom in Hope Harbor. What type of research was required to write about her profession?
A: This part of the story was a joy to write, as I've always loved tearooms. Having afternoon tea is such a special treat – so relaxing and elegant. I go as often as I can and am always on the lookout for a new tearoom to try. So I drew on my experience as a customer for tearoom research. I also did extensive online research on lavender-growing in Oregon, and a I visited a local lavender farm in my home state for an up-close-and-personal look at a lavender operation. They also served tea there, by the way, with lavender scones!
Q: In Driftwood Bay, two of your characters are helping a family fleeing persecution in war-torn Syria. What was the inspiration behind this idea?
A: This came straight from the headlines. There have been so many tragic stories about the plight of Christians being persecuted in that part of the world. My heart goes out to them, and I wanted to highlight the tremendous difficulties they face.
Q: Did you learn anything new about the plight of refugees and how others can be of assistance to them?
A: I'm aware of a number of churches that have "adopted" Syrian families who needed refuge, but based on my research I believe larger-scale relief will require higher-level intervention.
Q: Driftwood Bay explores various emotions including grief, healing, and peace. What do you hope readers gain from reading your book?
A: As the series title says – hope. That's what the books in this series are all about. All of the plot lines – and there are others besides the central romance in each book – feature characters facing challenges. I weave the stories together, showing the interconnectedness that binds us all together. And in the end, I strive to leave readers feeling upbeat and optimistic. I try to show that happy endings are always possible, and I also highlight the tremendous power of love (not just romantic love) to transform lives.
Q: What is next on your writing to-do list?
A: The final book in my Code of Honor series, which features three childhood friends whose bond has been strengthened by time – and danger – will be out in October. Then I'll return to Hope Harbor in spring 2020.
(Visited 1 times, 1 visits today)