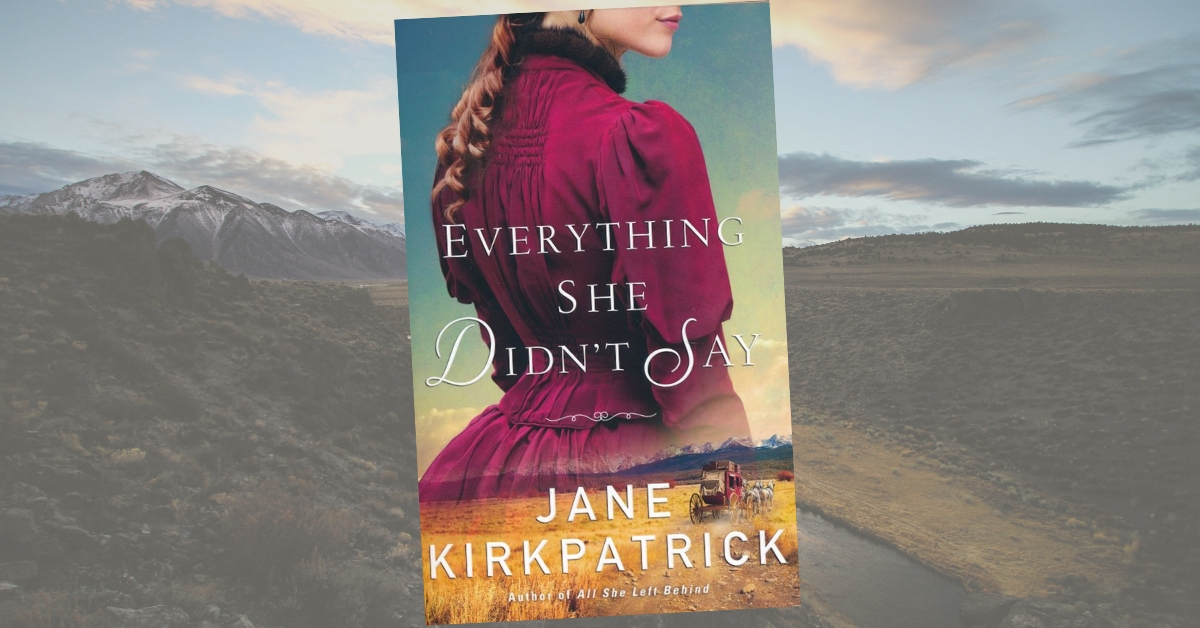 In 1911, Carrie Strahorn wrote a memoir entitled Fifteen Thousand Miles by Stage. In this memoir, Strahorn detailed the events that occurred during her 25 years of traveling and shaping the American West with her husband, Robert, a railroad promoter, investor, and writer.
Everything She Didn't Say, the latest book from Jane Kirkpatrick imagines Carrie nearly ten years later as she decides to write down what was really on her mind during those adventurous nomadic years. It's a riveting read that will sweep readers off to another time in history and into the mind of Carrie Strahorn.
Kirkpatrick's writing is masterful, drawing out the emotions of living – the laughter and pain, the love and loss – to give readers a window not only into the past, but into their own hearts.
Jane Kirkpatrick answered some questions about her latest read – the inspiration behind it, the true story of Carrie Strahorn, and just what is next for the author. Here is what she had to say…
Q: What did you first learn about Carrie Strahorn?
A: A fan of my work told me about her memoir. She thought Carrie would make a great subject. I suggested that my reader write that story! She claimed she was no writer, just a reader, but she loaned me her copies of Carrie's memoir. I found my own copies after that, and a few years after that, Carrie was on my mind all the time!
Q: What motivated you to write about her life?
A: When I read Carrie's memoir, Fifteen Thousand Miles by Stage 1877-80 and 1880-98 (two volumes!), it read more like a travelogue than a memoir. I kept asking myself what she was leaving out, what wasn't she telling us? She gave a few clues, like her saying she didn't want her husband to see her tears when he showed her the desert landscape that he hoped they'd turn into town one day. But she didn't share any epiphanies of wisdom about how she made it through the tears or why she didn't want him to know of her true emotions. That made me want to explore their relationship more. Lots of competent women are married to competent men, and that's always an intriguing study in relationships.
Q: What type of research was required for writing Everything She Didn't Say?
A: I used a variety of sources. Census records, newspaper accounts that mostly followed Robert Strahorn's travel but often mentioned Carrie, a book written about the two of them as literary people in the West (Carrie also wrote, though Robert was the better-known author), copies of railroad material, irrigation company histories in towns the Strahorns founded (really exciting reading!), information about the founding of towns and her role in establishing a Presbyterian church in Idaho, and Robert's own memoir written when he was ninety. But the majority of research was reading and rereading Carrie's memoir and asking myself what had she left out? Incidentally, Robert only devoted three sentences to Carrie in his memoir, but her two volumes are filled with Robert, or "Pard" as she called him.
Q: Although Carrie experienced some amazing adventures in her twenty-five years of travel by stage coach, there is also a good chance that she experienced pain, disappointment, and loneliness, and learned valuable lessons of what home truly looks like. Can you briefly expand upon some of these life lessons?
A: She found respite in her music, I think – she was a trained singer who would join choirs in little towns in Wyoming or Montana. She learned how important music can be to heal our spirits. She stayed in her "happy lane" so she always put the best spin on events, looked for the light in the midst of darkness. She had a great sense of humor. Making friends was difficult because they traveled so much, but she learned that she had to make an extra effort to have those long-term relationships work. Family became incredibly important to her. They tried to travel back to Marengo, Illinois, for Christmas each year using their railroad passes, and she brought her sisters would take side trips. She loved the western landscape and it gave her nurture. She probably learned that "family" comes from the Latin word famaulus, meaning servant to her husband's work and health concerns. Perhaps most importantly, her faith was essential to her enduring the disappointments and pain. The life lesson of having a purpose that serves others was very meaningful to her too.
Q: In addition to Carrie, did you have another character in your story that you truly resonated with?
A: You'll think this is weird, but when she got her dog, Argos, I loved him. In her memoir she said that her father sent her the wolfhound to keep her safe from tramps along the railroad line that often knocked on their door when they lived a few years in Caldwell, Idaho, a town they founded. But the dog loved tramps! Later she got the breed she loved the most, an English bulldog she named Daisy. Because she was a musician, I had her train the dogs to lie down by using the command "B-flat". I also loved her sisters, Hattie (a doctor, wife, and mother) and Mary (a wife, mother, and journalist) who gave her such support.
A: I hope they'll be inspired by this woman who kept going despite the disappointments and that they'll see that relationships of all kinds take accommodation, acceptance of what it, and finding grace along the way.
Q: What's next on your writing to-do list?
A: I'm deep in the throes of a story I discovered in a footnote that said in the winter of 1843, eight women, several children, and one man waited for rescue in the high Sierra mountains for several months. I wondered who they were, how it happened they were there, and did they survive? It was the year before the infamous Donner party tragedy, and they were in the same mountain pass. Stories like that just intrigue me.
(Visited 1 times, 1 visits today)