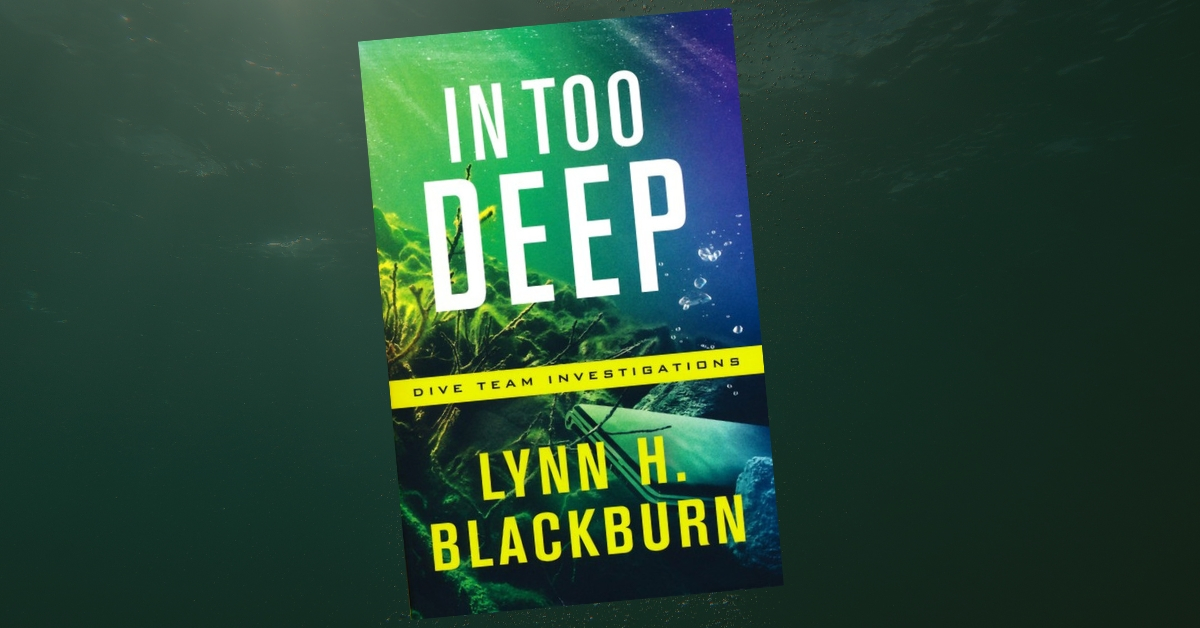 Looking for your next suspenseful read? Haven't dove into the latest release from Lynn H. Blackburn? Well, you're in for a real treat! In Too Deep is the second book in Blackburn's Dive Team Investigations series, and it does not disappoint.
The award-winning author invites readers back to Carrington, North Carolina where readers will meet investigator Adam Campbell who, after recovering a dead body from a submerged car, uncovers a human trafficking ring in his own backyard. Campbell soon realizes all is not as it seems and sinister elements lurk behind the idyllic facade.
Lynn H. Blackburn answered some questions from readers about her latest book – and she even gives us insight into what is coming next for the author!
Q: What was your inspiration for In Too Deep?
A: When I first developed this story, I knew I wanted it to have a human trafficking angle and I wanted Adam's family to be mixed up in it. But it was a very vague idea and I didn't know how it would come together. Then I heard about the labor trafficking happening in my own city and how the Carolinas have a high number of people living in slavery right in front of us and we don't realize it. I can still remember the moment I knew this was the kind of trafficking the characters would be dealing with. It shook me in a way no other story I've written has.
Q: What type of research was required for writing your book?
A: I interviewed a white-collar crimes investigator and a computer forensics expert, both of whom gave me valuable insights into Adam's and Sabrina's characters. We talked about what they love about their jobs, what's challenging about their jobs, and what a day-in-the-life looks like for them. I'm also fortunate to have a homicide investigator who graciously answers my procedural questions and a master underwater criminal investigator who helps me get the diving scenes right. I also spent a lot of time researching human trafficking – specifically labor trafficking in the Carolinas. It was the most difficult research I've ever done.
Q: What intrigued you most when writing about dive team investigations?
A: The thing that is both the most intriguing and the most terrifying to me is how often the divers have little to no visibility. They are floating just above the bottom of a lake and searching with their hands. It takes a very special person to have the courage to do something like that.
Q: Do you have a favorite character in your book?
A: The hero and heroine always get my love and devotion, of course. But after that, I'm very partial to the EMTs who, unfortunately for the main characters, get a lot of action in this novel. I think Clark and Dorothy might each have an interesting story. And Adam's parents, Art and Abby, were a lot of fun to get to know.
Q: What do you hope readers gain from reading In Too Deep?
A: I always want my writing to encourage people in their faith – to help them remember that God is faithful and good. But with In Too Deep, I also hope readers come away with a new understanding of the very real issue of human trafficking in our country and seek out ways they can help in their own communities.
Q: What's next on your writing to-do list?
A: I'm writing the third book in the Dive Team Investigations series. Readers have been clamoring for Investigator Gabe Chavez to get his own story, and I can tell you that he has a good one!
(Visited 1 times, 1 visits today)