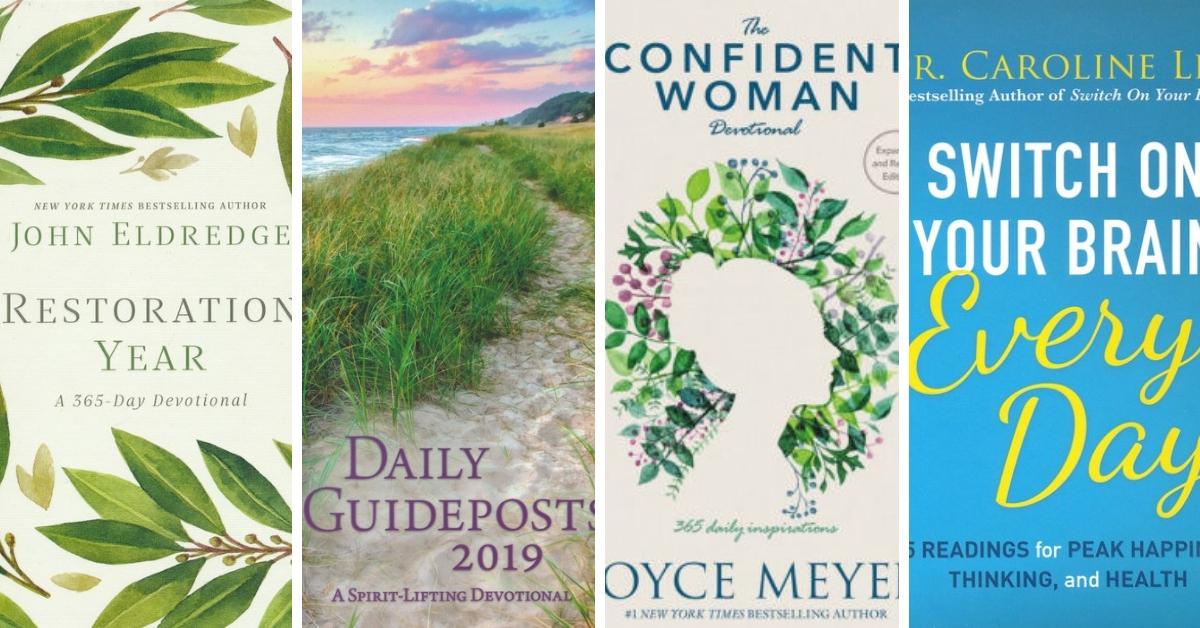 2019 is just around the corner… it sure did sneak up on us, but we're definitely ready to launch ourselves into the new year refocused and re-energized!
If like us, you like to start the new year with a new devotional, you might be wondering which will help you reach your spiritual goals for the year. Are you looking to take time out to breathe everyday? Or for a devotional that will help you take a giant leap in your life?
Whatever your goals, we think these are the devotionals that will help you get there – all while putting God firmly at that heart of each and every day.
We all need to believe that our lives can be better, our relationships can be smoother, and our futures, both in this life and the next, are bright. This 365-day devotional is comprised of short readings that guide you on a year-long journey of restoration. Each devotion features a Bible verse, a devotion, and a closing prayer or inspiring challenge that will equip you to pursue lasting transformation in your life and relationships. Restoration Year covers a variety of topics, including relating to God, understanding who God really is, sustaining friendships, deepening relationships with family members, and more!
Do you get caught up in worrying about the future instead of living in the present? Do issues of confidence, self-image, and relationships trouble you? You aren't alone! In The Confident Woman, Joyce Meyer taps into concerns and issues that many women commonly experience and provides encouragement and practical wisdom to help resolve problems in those areas of life. Meyer helps to show that holding on to personal "baggage" is what keeps us from being the woman God created us to be! It's guaranteed to help you on your journey toward a confident life filled with love, laughter, and God's acceptance, one day at time.
You've heard that "all things work together for good" countless times. So why do you still feel so unfulfilled? Called for a Purpose shows that, taken in its full context, Romans 8:28 contains a beautiful promise just for you. The key to making this real, is to love God and live life according to His purpose, not yours. These heartfelt devotions from Dr. Tony Evans will help to draw you ever closer to God, encourage you to submit to His will, and trust Him to shape your God-appointed destiny. You're sure to discover the unparalleled joy of living a life of purpose through Jesus Christ with this devotional!
No devotional list would be complete without America's bestselling annual devotional – Daily Guideposts 2019! This 365-day devotional from the Editors of Guideposts aims to help readers grow in their faith every single day of the year. This year's edition features 365 fresh devotions from 50 bestselling authors – including Debbie Macomber, Rick Hamlin, Elizabeth Sherrill, and Julia Attaway. Based on the theme "In the Shadow of Your Wings," each devotional includes inspiring Scripture, a first-person story of how God speaks to us through ordinary life, a prayer, and a "Digging Deeper" reference.
Is the way you're thinking making you physically ill? Experience wholeness with this 365-day devotional companion to Dr. Leaf's best-selling book Switch On Your Brain. In Switch On Your Brain, Dr. Caroline Leaf gave readers a prescription for better health and wholeness through correct thinking patterns. Now she is helping readers live out their happier, healthier, more enjoyable lives every day with this devotional companion to her bestselling book. Readers will find here encouragement and strategies to reap the benefits of a detoxed thought life – every day!
Journey through the Psalms with Pastor Keller and hear the voice of Christ along the way! The Book of Psalms is known as the Bible's songbook – Jesus knew all 150 psalms intimately, and relied on them to face every situation, including his death. Two decades ago, Tim Keller began reading the entire Book of Psalms every month. The Songs of Jesus is based on his accumulated years of study, insight, and inspiration recorded in his prayer journals. Offering a year's worth of daily meditations, this encouraging collection features excerpts from Keller's best-selling books, recommended readings for deeper study, fresh biblical insights, and more.
Embraced is a beautiful devotional from Lysa TerKeurst for women at every stage of life's journey. Through these 100 devotions, daily scriptures, and prayer prompts, you'll be reminded daily that God doesn't pull back from your sharp edges. TerKeurst shares her own struggles and doubts while helping readers understand that because we have been fully embraced by Him, we can spend our lives trusting His ways. Topics in this devotional include – personal identity, friendship, decluttering, self-worth, parenting, marriage, decision making, and other "sticky statements" from Lysa.
In Mornings with Jesus 2019, you can read one all-new devotion each day that will encourage you to embrace Jesus's love, to lay down your worries and walk with Him, and to focus on Him as Redeemer, Friend, and Faithful One. Lifting up their voices in heartfelt gratitude, 12 writers consider the character and teachings of Jesus and share how He enriches and empowers them daily and how He wants to do the same for you. Every day you will enjoy a Scripture verse, reflection on Jesus's words, and a faith step that inspires and challenges you in your daily walk of living a Christ-like life. By setting aside just 5 minutes a day, Mornings with Jesus 2019 will surely help you experience a closer relationship with Jesus.
(Visited 1 times, 1 visits today)