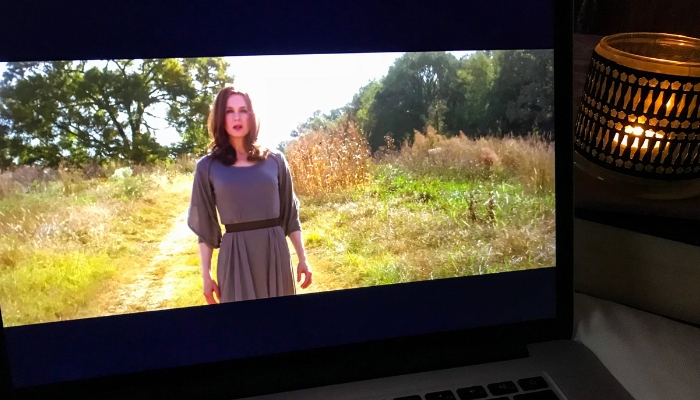 What's better than curling up with a good film, a warm blanket and a bowl of popcorn on a cool, fall day? It's one of our favorite ways to unwind after a busy week! But, have you ever spent hours trying to decide on a movie? We certainly have! Which is why we thought we'd round up some of our favorite new and classic movies for you.
There are new movies and classic movies that will inspire you, entertain you, and in some cases sweep you off to another time or place. Most of these are feel-good movies that will give you the warm and fuzzies – but in case that isn't your thing, we've thrown in a couple of documentaries for good measure.
Happy viewing, friends!
New Releases You Won't Want to Miss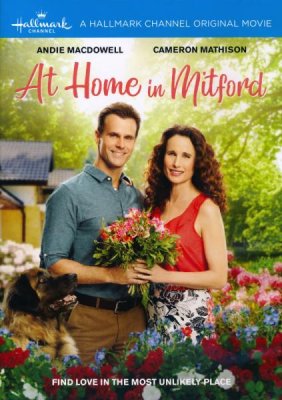 Is there anything better than a Jan Karon novel and Hallmark movie coming together?! At Home in Mitford, starring Andie Macdowell and Cameron Mathison, transports the literary town of Mitford onto your television screen, bringing to life much-loved characters – including Father Tim! We'll follow children's author, Cynthia Coppersmith as she attempts to move on from her writer's block and heartbreak at her late uncle's cottage in Mitford. Here she meets local preacher – Father Tim – as he helps her with her book, she connects with the young man. Will they both take a chance on love? You'll have to watch to find out!
This one is a little something for music fans out there. After the death of his beloved wife, Joey, Rory Feek is finding his voice again as he struggles to adjust to a "new normal." In The Singer & the Song, we'll follow Rory as he manages his farm, parents his daughter, and sings the favorite songs he and Joey performed together. This inspiring story also features an interview with Bill Gaither.
Here's another DVD that falls in the documentary category for you lovers of a good real-life story. In Billy Graham: An Extraordinary Journey we'll take a look back to the incredible life of the unlikely messenger who touched the world. Known as a pastor to presidents, an advocate for racial equality, and the fearless risk taker, you'll see Graham's unwavering faith as he encountered challenges, tragedies, and world crises. Featured in this documentary is rare historical footage and compelling interviews with family members, lifelong friends, former presidents, and prominent broadcasters.
This blockbuster movie starring Renee Zellweger, Greg Kinnear and Djimon Hounsou is an absolute must-see. We are introduced to international art dealer, Ron Hall who befriends a homeless man to save his struggling marriage. His wife, Deborah is a woman whose dreams will lead all three of them on the most remarkable journey of their lives. Same Kind of Different As Me is an inspirational story about two men from drastically different backgrounds and the bond that brought them together for an everlasting friendship.
If you loved the original Healed By Grace, you'll surely love Healed by Grace 2! Jesse is approaching her 15th birthday and the only gift she desires is a horse. Unbeknownst to Jesse, her mother Brandy is in the throes of a cancer diagnosis which has Jesse's father jumping through unexpected obstacles. He arranges for Jesse to stay with her estranged grandfather, an old gruff horse trainer named Gauff. An absolutely humorous and inspiring story of how God's grace works in mysterious ways.
If you are a fan of seeing Biblical stories on the screen, Paul: Apostle of Christ doesn't disappoint. Once an infamous persecutor of the early Christians, Paul became Jesus' most influential apostle. While awaiting execution in a Roman prison, he reflects on his life with his friend and physician, Luke. As a result of their discussions, Luke resolves to write a book detailing the birth of "The Way". The faith of these two men challenges an empire – but will their words change the world? A gripping movie from start to finish!
Another great feel good movie for you! In The One I Wrote For You, we meet Ben Cantor, a singer/songwriter who gave up stardom decades ago. Struggling to provide for his family, he's grateful to be promoted to manager of the Monterey Coffee Bar. His life is changed however, when the reality show 'The Song' comes to town. His daughter, eager to help her dad, enters him in the competition. But when fame and fortune threaten to take over, will Ben stay true to himself?
Hooray! Another Hallmark movie! Honestly, one of our favorite genres of movies… especially at this time of the year. In Pumpkin Pie Wars, we are introduced to Faye and Lydia, former best friends who parted ways 10 years ago after a personal and professional falling out. Now running rival bakeries, they are thrust together once more at an annual Pumpkin Pie contest. Their offspring, Casey and Sam are taking part in the contest, but there's one problem – they seem to be falling in love! Which one will win? Or will they both triumph – at romance?
Classic Movies to Revisit
Based on a short story penned by the legendary Louisa May Alcott, An Old-Fashioned Thanksgiving transports us to farm-life in the century.  We meet Mary Bassett, a widow whose farm is on the brink of financial ruin. In dire straits, Mary cannot even afford a Thanksgiving turkey for her family. When her wealthy and estranged mother, Isabella, comes to visit, Mary resents her efforts to help them out. Will mother and daughter overcome their bitterness and embrace the healing?
Adapted from the best-selling autobiography about Angus Buchan, Faith Like Potatoes is a movie that falls well and truly under the category of feel good movies! It follows Buchan, a Zambian farmer of Scottish heritage, who leaves his farm in the midst of politcal unrest. After moving south to a new country and purchasing some land, the Buchan family struggle to settle in their new homeland. When his wife urges him to attend a local church we witness a change grow inside of Buchan. Viewers will be transported on the moving life journey of a man, who, like his potatoes, grows his faith, unseen until the harvest.
Okay, I think we've established the fact we really love a Hallmark movie… so it should come as no surprise that we've included this one! Chicago native, Emily Jones loves her city, and has dedicated her career to coordinating its beloved Thanksgiving Day parade every year. When Emily is forced to work with wealthy development consultant, Henry Williams, she finds her annoyance turning into a different kind of feeling. As Thanksgiving draws nearer, Emily realizes she might be falling for him. Can she confess her true feelings? Trust us… it's a classic!
This one is a real classic! In Love Comes Softly, you'll be transported to life in the 1800s where we meet Marty Claridge, a young women reluctantly headed west with her husband. When he dies suddenly, Marty is left far from home and in a sea of strangers. Destitute and unprotected, Marty has no means of caring for herself – until Clark Davis offers to marry her and care for her until she can return east. Marty steps in as to care for his ten-year-old daughter who is determined to foil all of Marty's attempts at kindness. Based on the novel by Janette Oke, this is a story we can revisit time and time again!
(Visited 1 times, 1 visits today)