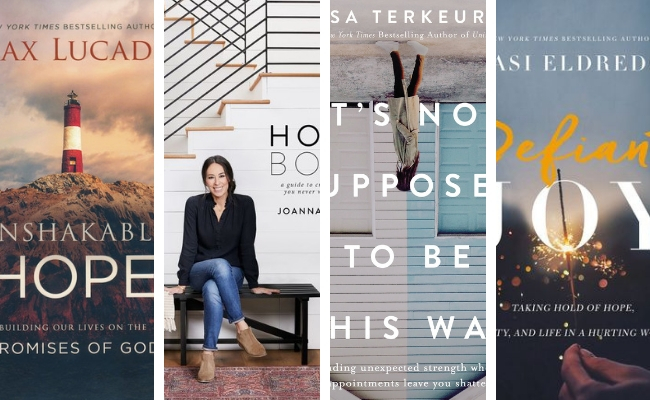 Looking for a fresh read to cozy up with this fall? We've rounded up some of our favorite new releases to help you on your search! You'll find a brand new book from Max Lucado, a Christmas edition of Jesus Calling, and inspiration design aesthetics from Joanna Gaines.
Whatever it is you like to read, we're sure you'll find some inspiration right here…
Nothing lifts us out of fear and weariness like hope. An anchor through life's storms, hope buoys our spirits and seeks to make a way when we face touch times. After 40 years of ministry and speaking to hurt hearts, Max Lucado has learned that the promises of God will give you the strength you need. Each chapter in Unshakable Hope explores one Biblical promise that will help equip you to face every day with courage.
A soul-quieting compilation of Young's devotions – just in time for the hectic holidays! Centered on Advent and nativity themes, these first-person "messages from Jesus" will help you draw near to the Lord in the season of his birth. Jesus Calling for Christmas is a real treasure, featuring 50 seasonal devotion selections along with Scripture, quotes, and festive and breathtaking color photography.
Create a home that is distinctly yours – because it reflects the unique heart and stories of your family! Gaines instills confidence as she helps you assess your priorities, thoughtfully embrace design, blend the aesthetics you love, and craft spaces you'll never want to leave. Home Body also features stunning photographs of the Gaines' beloved farmhouse and other inspiring interiors – the perfect fall read!
If God had it His way, what would our churches look like? In his most powerful book yet, Pastor Francis Chan digs deep into biblical truths, reflections on his own failures and dreams, and stories of ordinary people God is using to change the world. When Jesus returns, will He find us caring for His Bride-even more than for our own lives? Letters to the Church reminds us of how powerful, how glorious the Church once was … and calls us to once again be the Church God intended us to be.
What happens when life looks very different from the reality we long for? In It's Not Supposed to Be This Way, Lysa TerKeurst offers a Biblical perspective and hard-won advice to encourage readers facing their own challenges. Find unexpected strength while wrestling between faith and feelings and learn how to stand through uncertainty and trust in God's goodness.
Two thousand years ago, Christians risked persecution and death for the sake of their faith. What would happen if 21st Century believers followed their lead? Taking you back to a time when Christianity couldn't be ignored, marginalized, or eradicated, Stanley shows how the early church turned the world upside down—and how we can recover that same faith.
As Christians, we're told to "be joyful always". But is that really possible? Speaking from her own experience, Eldredge shows you how to choose a holy defiance that doesn't ignore, deny, or diminish life's heartaches. But instead, lean fully into the experience of knowing God's presence and promises in the middle of whatever life may bring. A truly inspirational read.
(Visited 1 times, 1 visits today)