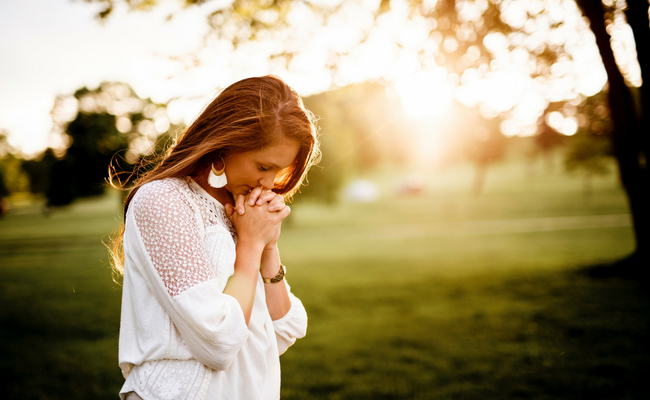 As Christians, we strive to get to know God better – and what better way to do that than through daily prayer? Prayer is a wonderful thing. It can help us get through tough times and celebrate the good times. But how often do you pray? We know life can get in the way from time to time, but taking a few quiet moments with God each and every day something we should all aspire to.
So, as a little reminder, here are some reasons we think praying each and every day is so important…
Brings You Closer to God
The LORD is near to all who call on him, to all who call on him in truth. – Psalm 145:18 
This one is simple… Just as with every other relationship in your life, communication is key! If it's a closer relationship to God you seek – prayer is the way.  By talking to God each and every day, we can develop a deeper and more meaningful connection. But make sure you talk honestly! Open up about your struggles, talk about your loved ones, ask for forgiveness, and just as importantly, celebrate the joy. By doing this every single day the more you'll know the heart of our heavenly Father. What could be better or more fulfilling?
Prayer Shines a Light in the Darkness
The righteous cry out, and the Lord hears them; he delivers them from all their troubles. The Lord is close to the brokenhearted and saves those who are crushed in spirit. – Psalm 34:17-18
Sometimes we forget just what a powerful tool prayer is. No matter what you are going through, by speaking to God on a daily basis we can make any situation seem manageable. When you are praying to God, you can tell him just what it is that is concerning you – and, you can be sure he is listening and lessening your burden. But remember, prayer should never be a last resort – it should always be our first response.
It Can Set the Tone for Your Day
Therefore I tell you, whatever you ask for in prayer, believe that you have received it, and it will be yours. – Mark 11:24 
Life can be incredibly busy. There are chores to do, errands to run and bills to pay. Sometimes the to-do list can seemingly go on forever. Rather than waking up and feeling overwhelmed by the long list of things you need to get done, just pray. By making prayer our first priority, it sets our intention for the day and helps focus on what matters most… Him. Mornings are better when you talk to God first!
Prayer Protects
For you bless the righteous, O Lord; you cover him with favor as with a shield. – Psalm 5:12
When you pray often, it helps build a faith that can stand firm even when faced with obstacles. When challenges come your way, you can rest assured you are not alone. It's also a way for us to offer protection to others in our lives. Praying to God in the name of others is a powerful thing and something we should never underestimate!
(Visited 1 times, 1 visits today)