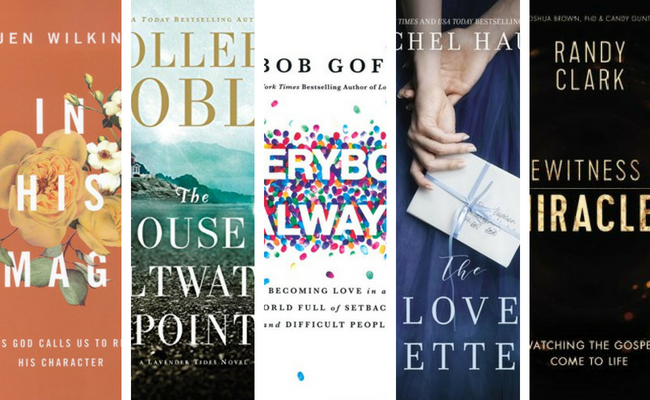 Ah, summertime. The sun is shining, the birds are singing… so what better time to pick up a brand new read and soak it all in with a good iced coffee! There have been so many great new releases recently, so we thought we'd round up some of our favorites.
Whether you love a good fiction book in which to escape, or an inspirational read that will help you grow in faith… we hope you find a book just perfect for you!
A book that helps us to understand just who it is God intends for us to be. In His Image explores the ten characteristics of who God is – holy, loving, just, good, merciful, gracious, faithful, patient, truthful, and wise – and how these characteristics impact how we live. It will absolutely help you to switch your thinking from What is God's will for my life? to Who should I Be? Just like the Bible says, we should be like the very image of God. A great read for anyone looking to grow in God's image.
Husband and wife team, Ryan and Selena, have penned this book to help people put Christ at the center of their marriage. They aim to show you how to measure everything you do and say to each other against what Christ did for you. With passionate personal stories and practical, gospel-centered advice, the Fredericks help you handle these five key areas of marriage – priorities, communication, money, sex, and conflict. The Fierce Marriage perfect book for the newly-engaged to those who've been married for many years!
In this new book, author Randy Clark contends it is still God's desire to heal His people. Never before has a minister of the gospel gone to such great lengths to meticulously record so many miraculous events. Your faith will soar as you read testimony after testimony of astonishing healings. After all, if Jesus healed hurting people in His day, then why shouldn't we expect to see healing today? Eyewitness to Miracles is a read that will encourage you to believe once again.
What happens when we stop worrying about difficult people and simply love them? This is what Bob Goff dives into in his follow-up book to Love Does. Goff shares how he learned to accept others without inhibition, insecurity, and restriction – including how he befriended a Ugandan witch doctor. From finding the right friends to discovering the upside of failure, Everybody, Always points the way to embodying love by doing the unexpected, the intimidating, and the seemingly impossible. You're sure to discover how this no-limits embrace of everybody can really transform the world!
In this continuation of the Baxter Family saga, Ashley Baxter Blake makes it her mission to reunite two people, who, as children shared a tragic moment – the loss of parents in the Oklahoma City bombing. Each year since they met, Brady Bradshaw has left a note at the memorial for Jenna Phillips, but she has never responded. It's Ashley's hope that by bringing them together again, they may be able to help one another heal. The latest from Karen Kingsbury will have you hooked from start to finish – a heartfelt read for the summer.
The bestselling author of The Wedding Dress returns with her latest book, The Love Letter. Set in South Caroline comes a story of long-lost love and its redemption in future generations. This beautifully crated story follows the daughter of Hollywood royalty, Chloe, who is determined to make her own mark – and find romance. When screenwriter Jesse meets her, he believes she's perfect to play the role of a woman whom his Revolutionary War grandfather wrote a heartfelt message. Will a love letter from the past have an impact on their future?
For you lovers of a good mystery out there, Colleen Coble has you covered! The House at Saltwater Point introduces us to house-flipper, Ellie Blackmore, a woman trying to find her missing sister, Mackenzie. The only clue she has to follow is a bloodstain on the deck of Mackenzie's boat. But coastguard Grayson believes Mackenzie has faked her own death – but he can't seem to convince Ellie. They both want to uncover the truth – but sometimes it is more complex than it appears. This is an absolutely thrilling read – you won't be able to put it down!
(Visited 400 times, 1 visits today)