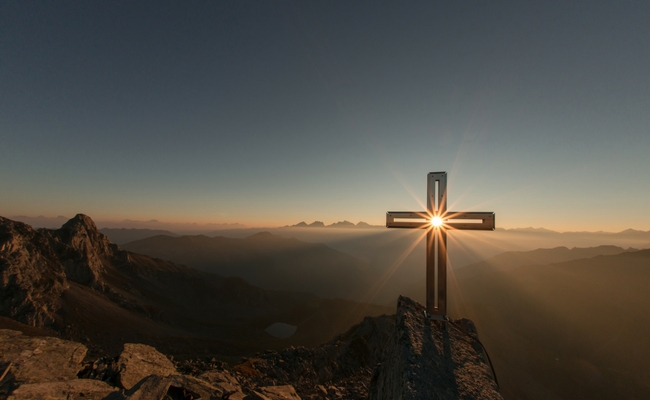 Easter Sunday is approaching, which makes it the perfect time to reflect upon Scripture. It helps to remind us that because of His grace, our sins have been forgiven. Whether you are looking for messages to write inside of Easter cards to loved ones, or helping teach children about the meaning of Easter, here are some Bible verses about Christ's death and resurrection that we can meditate on in the coming days.
Jesus said to her, "I am the resurrection and the life. The one who believes in me will live, even though they die; and whoever lives by believing in me will never die. Do you believe this?"
– John 11:25-26 [NIV]
Jesus called out with a loud voice, "Father, into your hands I commit my spirit." When he had said this, he breathed his last. The centurion, seeing what had happened, praised God and said, "Surely this was a righteous man."
– Luke 23:46-47 [NIV]
But God demonstrates His own love toward us, in that while we were still sinners, Christ died for us.
– Romans 5:8 [NKJV]
But he was pierced for our transgressions, he was crushed for our iniquities; the punishment that brought us peace was on him, and by his wounds we are healed.
– Isaiah 53:5 [NIV]
Blessed be the God and Father of our Lord Jesus Christ! According to his great mercy, he has caused us to be born again to a living hope through the resurrection of Jesus Christ from the dead,
– 1 Peter 1:3 [ESV]
The apostles testified powerfully to the resurrection of the Lord Jesus, and God's great blessing was upon them all.
– Acts 4:33 [NLT]
Now if we have died with Christ, we believe that we will also live with him. We know that Christ, being raised from the dead, will never die again; death no longer has dominion over him. For the death he died he died to sin, once for all, but the life he lives he lives to God. So you also must consider yourselves dead to sin and alive to God in Christ Jesus.
– Romans 6:8-11 [ESV]
He will swallow up death in victory; and the Lord God will wipe away tears from off all faces; and the rebuke of his people shall he take away from off all the earth: for the Lord hath spoken it.
– Isaiah 25:8 [KJV]
For as by a man came death, by a man has come also the resurrection of the dead. For as in Adam all die, so also in Christ shall all be made alive.
– 1 Corinthians 15:21-22 [ESV]
If you declare with your mouth, "Jesus is Lord," and believe in your heart that God raised him from the dead, you will be saved.
– Romans 10:9 [NIV]
Go therefore and make disciples of all the nations, baptizing them in the name of the Father and of the Son and of the Holy Spirit, teaching them to observe all things that I have commanded you; and lo, I am with you always, even to the end of the age." Amen.
– Matthew 19:20 [NKJV]
When the Sabbath was over, Mary Magdalene, Mary the mother of James, and Salome bought spices so that they might go to anoint Jesus' body. Very early on the first day of the week, just after sunrise, they were on their way to the tomb and they asked each other, "Who will roll the stone away from the entrance of the tomb?" But when they looked up, they saw that the stone, which was very large, had been rolled away. As they entered the tomb, they saw a young man dressed in a white robe sitting on the right side, and they were alarmed. "Don't be alarmed," he said. "You are looking for Jesus the Nazarene, who was crucified. He has risen! He is not here. See the place where they laid him. But go, tell his disciples and Peter, 'He is going ahead of you into Galilee. There you will see him, just as he told you.'" Trembling and bewildered, the women went out and fled from the tomb. They said nothing to anyone, because they were afraid.
– Mark 16:1-8 [NIV]
(Visited 1 times, 1 visits today)