Spring has finally sprung and with it come a whole host of new Christian fiction from our favorite authors! Whether you are a fan of contemporary fiction, Amish fiction or fast-paced suspense and intrigue, you're sure to find the perfect spring read among these upcoming new releases.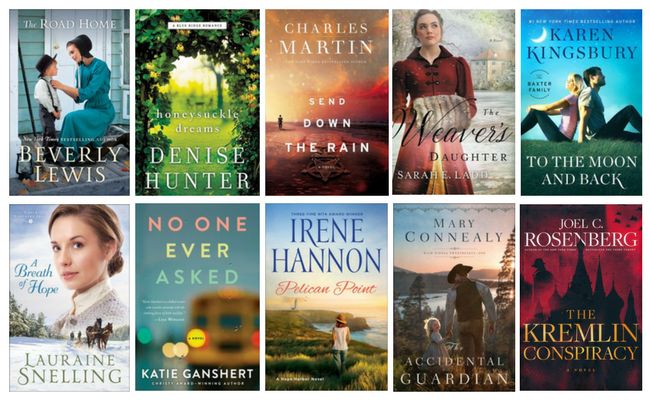 Releases April 3rd 2018
Bestselling Amish author, Beverly Lewis returns this April with her latest release – The Road Home. Sent from Michigan to Pennsylvania following the tragic death of her Amish parents, Lena Rose Schwartz grieves her loss and the separation from her nine siblings. Beside the fact that Lena has never been so far from home, she hasn't met the family she will now be living with. But worse than that is having to live apart from her close-knit brothers and sisters. How will they manage without her to care for them–especially six-year-old Chris? And will her new beau, Hans Bontrager, continue to court her despite the many miles between them?
Releases May 1st 2018
Here's a read for all you contemporary fiction lovers out there! After Brady Collins' ex-wife dies, he receives devastating news—his nine-month-old son Sam isn't his son at all. And Sam's wealthy maternal grandparents want custody of the child. Brady knows he's in for the fight of his life. But regardless of what any blood test says, Sam is his son, and Brady will go to any lengths to keep him. Brady's attorney tips him off that one major life change would virtually assure him of winning guardianship of baby Sam at the final hearing: an impending marriage. And his friend Hope is willing to step in as the loving and devoted fiance. As Brady and Hope make sacrifices to help each other in their times of need, they risk uncovering a truth neither of them expects to find.
Releases May 8th 2018
Send Down the Rain introduces us to Allie, a woman still recovering from the loss of her family's beloved waterfront restaurant when she loses her second husband to a terrifying highway accident. Devastated and losing hope, she shudders to contemplate the future—until a cherished person from her past returns. Joseph has been adrift for many years, wounded in both body and spirit –  just as he resolves to abandon his search for peace and live alone at a remote cabin in the Carolina mountains, he discovers a mother and her two small children lost in the forest. He instinctively steps in to help them get back to their home in Florida – returning to his own hometown in the process. Here he witnesses the accident which launches a bittersweet reunion with his childhood sweetheart, Allie. Will a secret from the past destroy their second chance?
Releases April 10th 2018
Loyalty has been at the heart of the Dearborne family for as long as Kate can remember, but as misguided actions are brought to light, she learns how deep her father's pride and bitterness run, and she begins to wonder if her loyalty is well-placed. Henry Stockton, heir to the Stockton fortune, returns home from three years at war to take to the helm of the family business.  He embraces his grandfather's plans to modernize the family's wool mill, ignoring the grumblings from local weavers. Henry and Kate have each been warned about the other, but they soon realize they must come together to find a way to create peace for their families, their village, and their souls—even if it means risking their hearts in the process.
Releases May 29th 2018
From Karen Kingsbury comes a brand-new love story in the Baxter Family collection about two people who lost their parents in the same national tragedy – the Oklahoma City bombing. Brady and Jenna shared a deep connection and single day together at the memorial – but after that Brady never saw Jenna again. Every year, he leaves a note for her at the memorial, hoping he might find her again. A chance meeting means Ashley Baxter Blake meets Brady who makes it her mission to bring the two together. But will it work? And will her family understand?
Releases April 3, 2018
Nilda Carlson has been trying to save enough money to go to America for months, so when a letter from Einar and Gerd Strand arrives, offering to pay her ticket, she jumps at the chance. Her younger brother Ivar accompanies her, and they can't wait to join their brother Rune and his family in the northern forests of Minnesota. Their relatives Signe and Rune welcome them warmly, as does Gerd Strand, but their uncle Einar doesn't seem to like anyone. Nilda soon finds work helping a young widow with her children, and is introduced to their schoolteacher. Now her world is beginning to grow…but Nilda still wonders what happened to make Einar so unhappy. When a tragedy lays the truth bare, the Carlsons and Strands will have to come together like never before and become a true family.
Releases April 3rd 2018
The latest book from Katie Ganshert challenges perceptions of discrimination and prejudice with the story of three very different women. When an impoverished school district loses its accreditation and the affluent community of Crystal Ridge has to open their school doors – the lives of three women converge. Camille Gray is the wife of an executive, mother of three, long-standing PTA chairwoman and champion fundraiser. Jen Covington is a career nurse whose painful journey to motherhood resulted in adoption. 22-year-old Anaya Jones is the first woman in her family to graduate college and a new teacher at Crystal Ridge's top elementary school. This story explores the implicit biases impacting American society, and asks the ultimate question: What does it mean to be human? And, why are we so quick to put labels on each other?
Releases April 3rd 2018
How important can one old lighthouse be? Ex-Army surgeon Major Ben Garrison thinks it's an eyesore, a burden he's inherited and can't wait to trade off. But Marci Weber, editor of the Hope Harbor Herald, holds a very different view. Sparks fly as the two go head to head over the fate of the lighthouse. But when they start to cooperate, a different kind of fire ignites. And as they work together, might Hope Harbor heal the hearts of these two romance-wary souls?
Releases April 3rd 2018
Trace Riley is the self-appointed watchdog for a wilderness trail, having been the lone survivor of an attack years before. Deborah Harkness now saved her younger sister and two toddlers during the attack and now finds herself at the mercy of her rescuer. Trace offers the only shelter for miles around and agrees to take them in until she can safely continue. Working to survive the winter and finally bring justice to the trail, Trace and Deborah find themselves drawn together–yet every day approaches the moment she'll leave forever.
Now Available
With an American president distracted by growing tensions in North Korea and Iran, an ominous new threat is emerging in Moscow. A czar is rising in the Kremlin, a Russian president feverishly consolidating power, silencing his opposition, and plotting a brazen and lightning-fast military strike that could rupture the NATO alliance and bring Washington and Moscow to the brink of nuclear war. But in his blind spot is the former U.S. Secret Service agent, Marcus Ryker, trained to protect but ready to kill to save his country.
(Visited 350 times, 1 visits today)