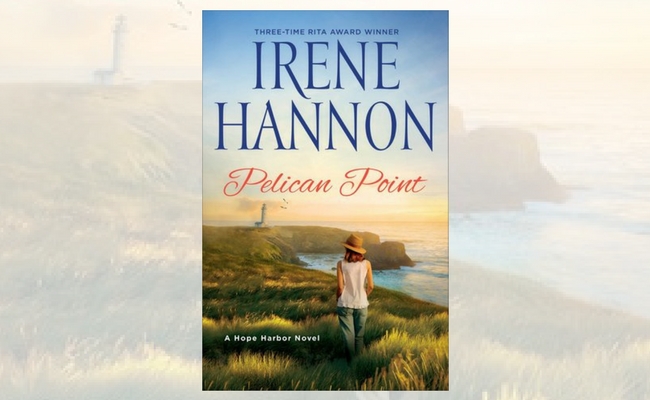 Bestselling Christian fiction author, Irene Hannon returns with a new contemporary romance novel, Pelican Point. The upcoming release is the fourth book in the Hope Harbor series, inviting readers back to their favorite town for a story that will pull at their heartstrings.
Irene Hannon sat down to answer a few questions for readers about her latest book and what she has planned next.
Q: Can you please tell us about your newest book, Pelican Point?
A: Pelican Point is the fourth book in the Hope Harbor series – but each book stands alone and can be read as a single-title novel. They're tied together by the setting, with a few beloved characters appearing in each book – including Charley, the taco-making artist, who's become the all-time favorite character in the 50+ books I've written. If you haven't read any of the Hope Harbor stories yet, I hope you'll drop in and meet him! I guarantee you'll come away uplifted after your visit to this special town, where hearts heal… and love blooms.
Q: Pelican Point is set in a fictional seaside town in Oregon. Why did you choose this setting for your Hope Harbor stories?
A: I love small-town settings, and coastal areas have always held a special appeal for me. The Oregon coast is stunning, so it was a natural choice for Hope Harbor.
Q: What type of research was required to write your book?
A: I did lots of research on lighthouses for this one. Some in person during a research trip to Oregon, which has more than its share of beautiful lighthouses, and a great deal online. I had no idea private citizens could buy lighthouses, for example – or the challenges involved in owning one. I'm not sure I'd be up to the task – and neither is my hero. But who can resist their aura of romance and adventure?
Q: What do you hope readers can learn from Pelican Point?
A: I think the book offers many insights in both the primary and secondary plots. But two of the big ones are the importance of being open to new roads God sets before us that might not have been in our original plans, and the power of love to overcome obstacles and transform lives.
Q: In addition to contemporary romance, you are also well known for your romantic suspense novels. Do you have a favorite genre or do you find one easier to write?
A: I love writing both. Suspense is intense, and I'm always ready to spend a little time in lovely Hope Harbor after completing one of those intense books. That's why I've gone to an April/contemporary romance and October/romantic suspense release schedule. Alternating genres gives me balance and keeps me fresh.
Q: What are you working on next?
A: Next up will be book 2 in my Code of Honor series, which will be out in October. It's the story of a woman who owns a fair trade shop and a police detective who find themselves plunged into international intrigue – and danger – when people connected with her shop begin dying.
Pelican Point by Irene Hannon releases April 3rd – it is available for preorder by clicking here. 
(Visited 1 times, 1 visits today)