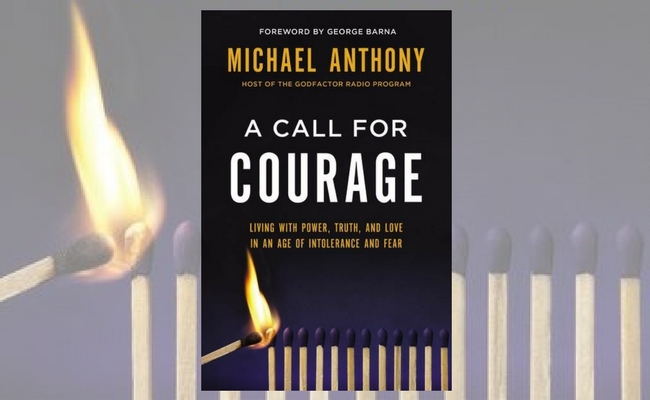 This is a guest post by Michael Anthony, popular speaker, blogger and founder of Godfactor®. His latest book, 'A Call for Courage: Living with Power, Truth, and Love in an Age of Intolerance and Fear' – is available to purchase by clicking here. 
"A Call for Courage is the book we have all been waiting for . . ."

– Joel Richardson, New York Times bestselling author
Hello, Christian Book family! I think it's time for a second American revolution, don't you? Not the kind fought with conventional, chemical or biological weapons, but the kind that comes courtesy of God's power – through ordinary people just like you and me. God's power is available to you, your family and your church. God is extending an invitation to you, to help him write history at this dark time in America.
America needs a revolution of courageous humility, because fear and arrogance are running rampant. Only God can overcome the shouting, hatred, division and violence that is now sewn into the American fabric. This is where you come in – and it's why I wrote, A Call for Courage: Living With Power, Truth, and Love in an Age of Intolerance and Fear. I wrote the book with you in mind, to spark your personal spiritual awakening. I spent six days in a secluded Pennsylvania cabin writing the first draft because I felt compelled to pen it – for you, your family and for our nation.
A Call for Courage is a practical how-to-handbook. In it, I don't just talk about the problems we face in our personal lives, families, churches and nation. I wove personal stories into it, and did my absolute best to provide practical, biblical solutions that you can immediately apply. That's part of what makes A Call for Courage a different kind of book. We need a different approach to what we've been trying in America. I think this book offers you a fresh start with God that will truly renew your life.
Much of what ails America – and American Christianity – stems from our misguided belief that the Bible is primarily a book of exceptions rather than a book of examples. Many of us were children when we first heard the amazing stories of ordinary men and women who accomplished extraordinary exploits for God. There was a time when the lives of biblical heroes and underdogs mesmerized and inspired us. We even dreamt about having an impact like them someday in our lives. But then we matured just enough to diminish a key reason why God wanted their stories recorded in the first place: to inspire us to live lives just like them.
It's time to stop dreaming about having a huge impact for God. We must no longer mistake the Bible primarily as a book of exceptions when it comes to being used mightily by Him. It's time for you to stand and deliver, to live your life like the heroes and underdogs we read about and respect in the Bible, where you honor God and flow with His power like never before – now.
My prayer is that A Call for Courage will spark a revolution of courageous humility in you. When that happens, the spiritual awakening America needs – the one you need in your personal life, your family and your church – will be underway. It's time to unleash God's power in your life, family and church. Why wait for the outpouring God is offering everyone at this vital time? It's time for courageous humility to arise in you.
(Visited 1 times, 1 visits today)