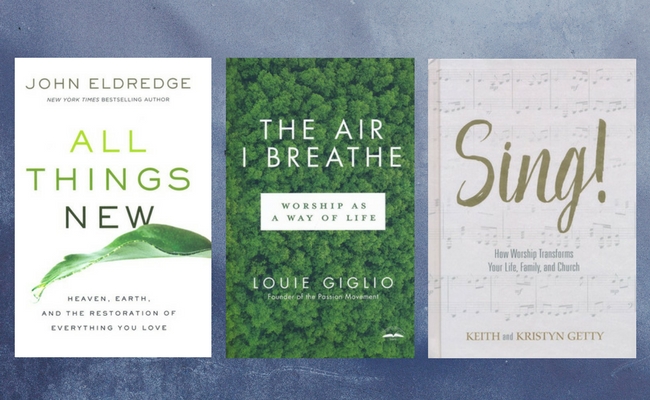 We don't know about you, but curling up with a book on a cold, wintery day is one of our favorite things to do. But sometimes it's difficult to choose just which book to dive in to. To make it a little easier, we've rounded up some of our top new Christian living titles for your consideration… happy reading all!
We've heard the promise of the New Earth in Scripture, but what does that really look like? Most of our ideas about eternity come from popular culture rather than the Word of God. In All Things New, John Eldredge aims to show us how much more amazing, fulfilling and rich our eternal home and our lives will be. Far from a continual worship service, or a peaceful boredom, heaven will be a renewal of all that is, in a paradise free from pain and loss, bathed in the continual presence of God.
From the author of Kisses from Katie, comes an invitation to faith even when things turn out differently than you expected. As a teenager Katie moved to Uganda, founded a successful humanitarian organization, became a mother through adoption and served where God called her. However, after an unexpected tragedy rocked her family, she felt the first stirrings of doubt in God's goodness. Yet in her doubts, Katie continued to turn to God. Here, she shares what she learned during that time and offers encouragement to readers to seek God even in those unexpected painful places.
True freedom comes when worship flows through us as naturally as the air we breathe. And it's more than singing songs in church on a Sunday morning. Pastor and worship leader Louie Giglio believes that our whole lives can become worship when we open our hearts and minds to the wonder and presence of God each moment. Discover how you can build a life filled with the love our Creator and Savior has for us.
In this 365-day devotional, the Kellers offer a fresh, inspiring lesson for every day of the year. Unlock the wisdom God provides within the poetry of Proverbs! In this 365-day devotional, the Kellers offer a fresh, inspiring lesson for every day of the year to guide you toward a renewed understanding of the essence and goal of leading a Christian life. Each day's reading includes a selection from Proverbs, a thoughtful reflection, and a prayer to help you internalize its wisdom.
Rediscover what it means to lift up your voice in praise. In Sing!, modern hymn writers Keith and Kristyn Getty explore why we sing and what that means for individual worshipers and churches. With attention to the Bible's witness on worship, this book will help Christians better understand and more deeply appreciate praising God with music and in song. We sing to proclaim the gospel together in obedience to God and to celebrate the gift of faith.
As Christians, we know someday we'll leave Earth behind and be united with God. Yet most of us know very little about what to expect! Opening Scripture to unpack 10 surprising truths about heaven, Dr. Jeffress explains who we will see there, how we can prepare for our journey, what we will do, and more.
(Visited 2 times, 1 visits today)