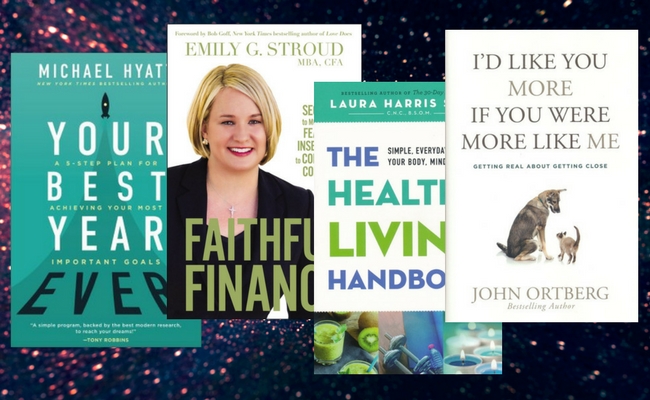 Need a little help trying to keep those New Year's resolutions? Whether you've committed to reading your Bible each day or improving your health, we've rounded up some helpful reads. We hope these will help you be successful – no matter what resolution you set for 2018!
For Your Faith
In this book, you can read and reflect on a new devotion each and every day, helping you to focus on what matters most – Jesus. Designed to take just five minutes, these readings include Scripture verses, meditations from 10 different authors and challenging "Faith Steps" intended to inspire and challenge you in your daily walk. With this book, you'll get to know Him as your Redeemer, Friend, and Faithful One!
Are you looking to find greater intimacy with God? My Time With God recounts the author's own spiritual reflections over the course of several years. Meyer has recorded in her journal the personal devotions that have inspired and guided her busy life. Each entry features an encouraging meditation, uplifting declaration, and Scripture verse. It is a book guaranteed to help renew your mind and offer assurances of God's love.
For Your Relationships
The latest book from John Ortberg is all about helping us discover how to make deep connections – despite our differences. Ortberg teaches us how to overcome obstacles – like our differences – to create better relationships with both God and other people. In the book, you'll learn how to connect with others in a more meaningful way through shared experiences. He'll also help readers get past any fears of intimacy and avoid relationship pitfalls. But let's not forget the most important part… the book will help you make God a part of your daily life.
Now, this book might not be particularly new – but it is a bestseller for a reason! Whether your relationship is flourishing or failing, The 5 Love Languages will help you experience deeper intimacy with your partner. Words of affirmation, quality time, gifts, acts of service, physical touches – learning these love languages is key to creating (and enhancing!) a long-standing relationship.
For Your Finances
This book is written for anyone who feels overwhelmed by their personal finances! Emily G. Stroud has been a financial advisor for nearly two decades and has written this book to help you take back control. In Faithful Finance, Stroud delivers a practical guide offering ten secrets that will help every financial situation, for every income level, at every stage of life. With engaging stories, practical examples and biblical counsel, Stroud aims to help you enjoy financial freedom for years to come!
When it comes to finances, we couldn't leave off the bestselling book by America's favorite finance coach, Dave Ramsey! In The Total Money Makeover, Ramsey provides a comprehensive and simple plan for debt-free living. The book will help you develop a plan for paying off all debt, recognize 10 of the most dangerous money myths and, build a nest egg for emergencies and retirement. A must read for anyone looking to get their finances in order!
For Your Health
In this book, Laura Harris Smith does a wonderful job of outlining simple, everyday ways you can achieve lifelong health for your body, mind, and spirit. The book is based around one simple, practical idea – change your habits, change your life. By showing that a healthy life is more than physical, Smith will help bring you the peace, energy, and clarity you long for.
Was your resolution to eat more healthily? Well, this is the book for you! The latest release from Trim Healthy Mama is loaded with more than 300 delicious (and healthy!) recipes to inspire. Alternating satisfying meals with energizing ones, they will help you create meals the whole family will love. In addition to the new recipes, the book includes a Simple Start Guide to the Trim Healthy Plan. This will explain how you can trim down by getting your blood sugar under control.
For Your Career or Business
Bestselling author Jon Acuff offers fresh and humorous wisdom on the world of work with his book Do Over. This is a guide to making big career changes and to helping readers escape the terrible feeling of being trapped in the wrong job. 'Do Over' is a book that is to help equip you with the tools and knowledge to get the job you've always wanted!
The beloved Chip Gaines recently released a book wonderfully titled – Capital Gaines: The Smart Things I've Learned By Doing Stupid Stuff! Long before the nation got to know Gaines, he was a serial entrepreneur always looking for his next challenge. From buying a laundromat to talking a bank into a loan, he relives some of his craziest antics and the lessons he learned along the way. It's the perfect book for anyone looking to succeed in business!
For Just About Any Resolution!
Here's the perfect read for just about any goals you want to achieve in 2018! In Your Best Year Ever, former CEO, Hyatt, aims to help readers close the gap between reality and their dreams. Sharing his proven, research-driven system for setting and achieving goals, Hyatt will show you hot to design your best year ever in just five hours. This read is perfect for anyone who is tired of not making progress in their personal aspirations.
(Visited 1 times, 1 visits today)