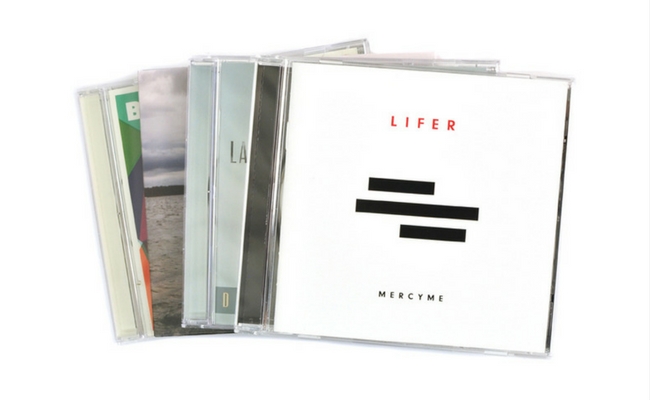 We may have already said goodbye to 2017, but let us take a look back at the Christian music releases we loved most. From contemporary to country and everything in between – these are the albums of 2017 we wouldn't want you to miss!
Lifer by MercyMe
The ninth album from Bart Millard and company finds the band at the top of their game. Lifer delivered a collection of inspiring pop and contemporary originals from the band – and fans were not disappointed. Songs such as "You Found Me" and "Grace Got You" ensured this album soared to the top of the Christian music charts. After listening to this album, it's no surprise MercyMe took home so many awards at the 2017 Dove Awards – including Artist of the Year!
What we love most: The positive, energy-packed songs with strong messages of faith
Sing It Now: Songs of Faith and Hope by Reba McEntire
The country phenomenon that is Reba McEntire returned in 2017 with her 29th album! Sing It Now is a 2-CD set that blends her favorite hymns and Christian classics with a selection of uplifting new songs. Fans were wowed by her inspired renditions of "Oh Happy Day" and "How Great Thou Art". McEntire also delighted us with an original number "I Got the Lord on my Side". Don't miss the album that saw Reba McEntire take home the 2017 Dove Award for Best Roots Gospel Album!
What we love most: The song co-written by Reba McEntire's mom, Jackie – "I Got the Lord on My Side"
Chain Breaker by Zach Williams
The breakout solo debut from songwriter and worship leader Zach Williams is the southern rock album you are going to want to add to your music collection! Encouraging and uplifting compositions such as "Chain Breaker" and "My Liberty" won the Arkansas native lots of new fans and even secured him the 2017 Dove Award for New Artist of the Year. We can't wait to see what Zach Williams delivers next!
What we love most: The Arkansas native's booming, gravelly voice on songs like "Survivor" and "So Good To Me"
The Garden by Kari Jobe
Worship leader and songwriter Kari Jobe returns with her first new album since the hugely successful Majestic in 2014. Loaded with vibrant new worship offerings, Jobe intertwines anthemic songs of praise with more reflective moments. "Heal Our Land" is an incredible song that reminds us of God's presence even in the most painful moments. It's simply brilliant from start to finish – a must-listen for any music lovers out there.
What we love most: Songs that speak to your heart and inspire you to seek God at all times
Out of the Dark by Mandisa
After a nearly 4-year hiatus from the studio, Mandisa returned in 2017 with her brand new album, Out of the Dark. The California native who first came to national attention under the spotlight of American Idol is known for her powerhouse vocals – and the new release does not disappoint. The inspirational lyrics of the Mandisa's new release praise God's boundless strength, grace, and love. A truly uplifting album!
What we love most: Mandisa's powerful, expressive voice in Spirit-filled songs like "Bleed the Same".
The Answer by Jeremy Camp
Since winning the New Artist Dove Award for his debut album, CCM singer/songwriter Jeremy Camp has been no stranger to success. Over the course of his 10 years in the business, Camp has released a dozen albums. His latest release aims to help listeners discover "The Answer" – Jesus. Fans of Jeremy Camp have been singing this album's praises since it released in October – and it's not hard to see why.
What we love most: Title track "The Answer" – the Christ-centered lyrics reassure us the He is our savior 
On My Side by Kim Walker-Smith
Here I Am, Send Me by Darlene Zschech
There is a Cloud by Elevation Worship
After All These Years by Brian & Jenn Johnson
(Visited 1 times, 1 visits today)