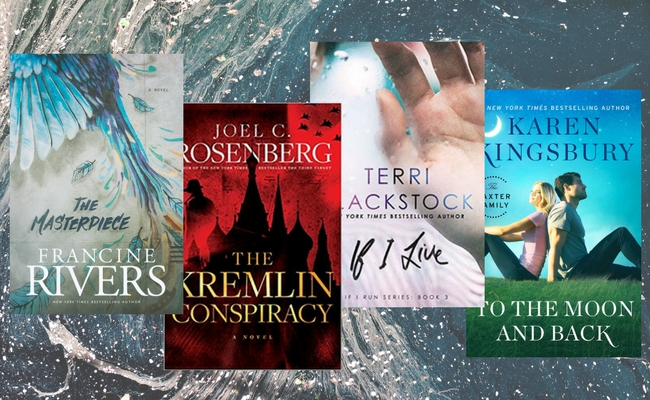 A new year brings with it a whole host of new Christian Fiction releases! We personally, have a list of books as long as our arm to read. But we thought it would be handy to whittle this long list down to some of the most anticipated releases of 2018.
Maybe you'll have some to add to this list – but here are our top picks for the new year…
Releases February 2018
Returning to her romance roots, Francine Rivers has penned a powerful love story reminding us that  even broken things can become stunning masterpieces. Set in LA, Roman Velasco appears to have it all – only Grace Moore, his newly hired personal assistant knows the real truth. Wrestling demons of her own, Grace gets to know the man behind the reputation and slowly the broken pieces of their lives begin to fit together. Until something unexpected happens – something that could change their lives forever…
Out now
Historical fiction author, Laura Frantz has penned yet another suspenseful story of love and betrayal with simply gripping characters. Set in 1775 Virgina, Lady Elisabeth "Liberty" Lawson is a 23-year-old lace maker and daughter of the British lieutenant governor of the Virginia Colony. When colonial Williamsburg explodes on the eve of the American Revolution, she finds herself abandoned by her fiancé and suspected of being a British spy. The only person her comes to her aid is Patriot Noble Rynallt – a man with enemies of her own. Will she side with radical revolutionaries? Or stay true to her English roots? Read the book to find out!
Releases March 2018
The conclusion of Terri Blackstock's If I Run series is almost here! If I Live wraps up the series with more suspense than ever before (just as you'd expect from Blackstock!). Casey Cox is still on the run after being indicted for murder – but she is running out of places to hide. She knows its only a matter of time and quickly realizes her only hope is Dylan Roberts – the investigator who once hunted her. Gathering the evidence to convict their enemies draws Dylan and Casey together, but their relationship doesn't come without consequences. Expect lots of page-turning chases and heat-stopping suspenseful moments in the conclusion to this series.
Releases July 2018
Joanne Bischof's upcoming release is all about love overcoming all obstacles – and it's one you won't want to miss. Set on an Appalachian farm, we meet Thor Norgaard, a deaf man who hasn't spoken to anyone in his 28 years. When the young widow, Aven Norgaard, arrives from Norway to serve as housekeeper, this reclusive alcoholic will brave much more than words to heal her heart and take her hand. Bischof's writing will once again sweep you off your feet with this wonderful read.
Releases April 2018
What kind of list would this be if we left off Beverly Lewis' soon-to-be-released Amish fiction read?! In The Road Home, we meet Lena Rose, a woman he never imagined she'd be leaving her Old Order community in Michigan. But that was all before a tragic accident made her, and her siblings, orphans. Separated from her brothers and sisters, Lena Rose is shipped off to live with distant relatives in Lancaster County. How can she bear living so far from her brothers and sisters – or her beau, Hannes?
Releases March 2018
Joel C. Rosenburg is back with another gripping political thriller! The Kremlin Conspiracy introduces us to an American president distracted by growing tensions in North Korea and Iran, all while a very real and ominous threat is emerging in Moscow. But in the czar's blindspot is U.S. Secret Service Agent, Marcus Ryker – a man trained to protect. but ready to kill to save his country from a nuclear war.
Releases January 2018
A story of suspense, danger, and love all set in the beautiful lavender fields of Washington State – what more could you hope for? Shauna McDade is a young widow living only for her five-year-old-son and the helicopter charter business she owns. When a bomb kills her business partner, Shauna becomes concerned her life is in danger and the only person she can turn to is Zach – her husband's best friend and the man she blames for his death. Zach wants to help her in any way he can, but when secrets from her childhood come to the surface it becomes apparent there is much at stake.
Releases February 2018
The third book in the FBI Task Force series will not disappoint fans! FBI Special Agent Kord Davidson and CIA operative Monica Alden are thrown together in a protection detail after an attempt is made on the life of a Saudi Prince. They must quickly set aside their interagency squabbles in order to keep the prince safe. A hard task when they find the would-be assassin always seems to be one step ahead of them – could it be someone close to the prince or the investigation? And can the agents stop them in time?
Releases May 2018
The bestselling author Karen Kingsbury is back in 2018 with an unlikely love story about healing, redemption and hope. We meet Brady Bradshaw a man who lost his mother in the Oklahoma City Bombings, a man who is desperate to find Jenna Phillips. Jenna, who also lost her parents in the tragedy, is a woman he shares a deep emotional connection with – and he just cannot get her out of his head. Every year when he returns, he leaves a note for her in hope she might find it. Will they ever be reunited? Ashley Baxter Blake has he heart set on it – can she help Brady find her? You won't want to miss the latest installment in the Baxter Family series!
(Visited 208 times, 1 visits today)