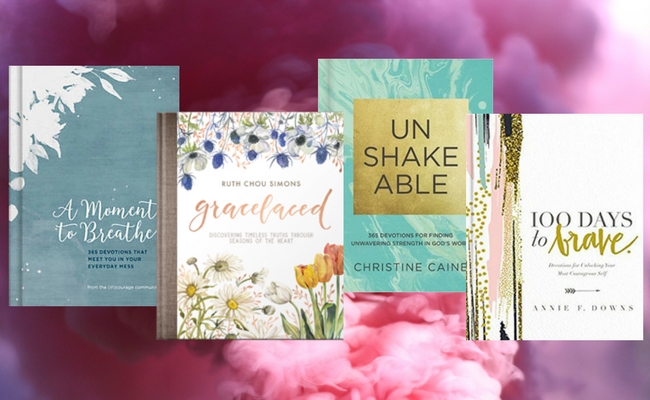 It's almost 2018! If like us, you like the start the new year with a new devotional, you might be wondering which will help you reach your spiritual goals for the year. Are you looking to take time out to breathe everyday? Or for a devotional that will help you take a giant leap in your life? Whatever your goals, we think these are the devotionals that will help you get there – all while putting God firmly at that heart of each and every day.
No devotional list would be complete without America's bestselling annual devotional – Daily Guideposts 2018. This 365-day devotional from the Editors of Guideposts aims to help readers grow in their faith every single day of the year. This perennial favorite is packed with all-new stories from contemporary writers such as Debbie Macomber, as well as inspiring Scriptures and practical prayers. In just five minutes a day, Daily Guideposts promises to help readers discover a richness in their spiritual life. A wonderful way to start or end any day!
Are you struggling with insecurity, fear, or uncertainty? Then this one is for you. In this daily devotional, bestselling author, speaker and activist, Christine Caine will take you on a year-long journey of building your faith in our Unshakeable God. With motivating Scripture and practical applications, her readings will show you that God has a unique plan for your life – a plan that is much greater than your limitations!
This devotional is truly food for the soul. GraceLaced by Ruth Chou Simons is a visual feast of 32 seasonal devotions accompanied by beautiful watercolor illustrations and photography. Through winter, spring, summer, and fall, you'll be inspired to live a life rooted and established in God's grace. You'll discover how to draw closer to God regardless of what season you find your heart in, and be encouraged to explore your own creative expressions of faith.
This devotional is perfect for the person who feels like they never have enough time. This collection of 356 readings from sisters in Christ will open your eyes to the beauty that can be found in everyday moments. More than 80 writers have contributed to this daily devotional all with the aim to encourage you to trust in God's unseen presence, everyday. Start your day with a passage of Scripture, a story of everyday faith and just… breathe.
A devotional that will remind you just how much God cares for you! Complete with over 365 meditations, the Our Daily Bread Devotional Collection is filled with true life stories from Our Daily Bread's most popular authors, inspiring quotes and most importantly – the Word of God. It's a devotional that will allow Him to meet you wherever you are, speak into your life and lighten your spirit. You can't go wrong with this trusty devotional!
The first devotional book from Priscilla Shirer will help you return to the core of your relationship with God. Through Scripture and daily readings, this devotional aims to help you awaken each day with fresh spiritual insights. Most of all, it will help challenge, encourage and strengthen you to live your best life guided all by Him.
God has a plan for you – of that much we can be sure! Looking to further your career? Have a big decision to make? No matter what you are up against or praying for, this devotional will show you how He gives you the power to be brave and chase those dreams. Annie F. Downs offers 100 daily devotions complete with specific actions to encourage you to believe God's promises, dream big and achieve your goals. Perfect for anyone dreaming big things for 2018!
(Visited 1 times, 1 visits today)