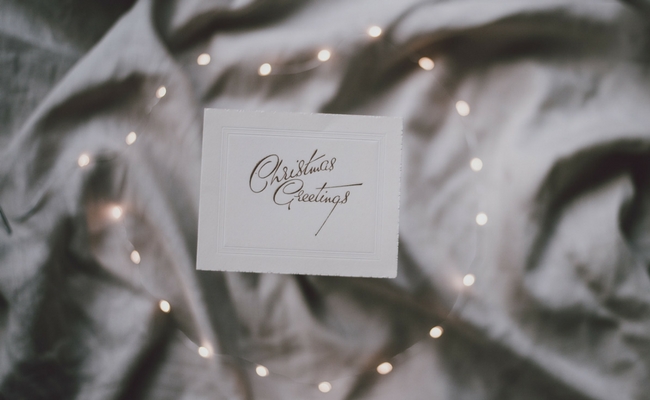 It's that time of year again when we all put pen to paper to wish loved ones well with a thoughtful Christmas card. We think Christmas cards can be a wonderful opportunity to share the meaning of Christmas. By including a Bible verse in your message, you'll not only add a personal touch, but also have an opportunity to reflect on the gift that is Jesus Christ.
Here are a few Bible verses we think would work well inside your Christmas cards this year…
Then the angel said to them, "Do not be afraid, for behold, I bring you good tidings of great joy which will be to all people. For there is born to you this day in the city of David a Savior, who is Christ the Lord.
– Luke 2:10-11  [NKJV]
When they saw the star, they rejoiced exceedingly with great joy.
– Matthew 2:10 [ESV]
Glory to God in the highest, and on earth peace, good will toward men.
– Luke 2:14 [KJV]
Whatever is good and perfect is a gift coming down to us from God our Father, who created all the lights in the heavens. He never changes or casts a shifting shadow.
– James 1:17 [NLT]
For God so loved the world, that he gave his only Son, that whoever believes in him should not perish but have eternal life.
– John 3:16 [ESV]
And the Word became flesh and dwelt among us, and we have seen his glory, glory as of the only Son from the Father, full of grace and truth.
– John 1:14 [ESV]
"Rejoice greatly, O daughter of Zion! Shout, O daughter of Jerusalem! Behold, your King is coming to you; He is just and having salvation, Lowly and riding on a donkey, A colt, the foal of a donkey.
– Zechariah 9:9 [NKJV]
For to us a child is born, to us a son is given, and the government will be on his shoulders. And he will be called Wonderful Counselor, Mighty God, Everlasting Father, Prince of Peace.
– Isaiah 9:6 [NIV]
Now the God of hope fill you with all joy and peace in believing, that ye may abound in hope, through the power of the Holy Ghost.
– Romans 15:13 [KJV]
Therefore the Lord himself will give you a sign: The virgin will conceive and give birth to a son, and will call him Immanuel.
– Isaiah 7:14 [NIV]
And she shall bring forth a son, and thou shalt call his name Jesus: for he shall save his people from their sins.
– Matthew 1:21 [KJV]
Thanks be to God for his indescribable gift!
– 2 Corinthians 9:15 [NIV]
(Visited 1 times, 1 visits today)