No matter what your budget, we've got gifts perfect for just about everyone on your list. We thought we'd round up some of our favorite gifts by price. Happy shopping!
Gifts Under $5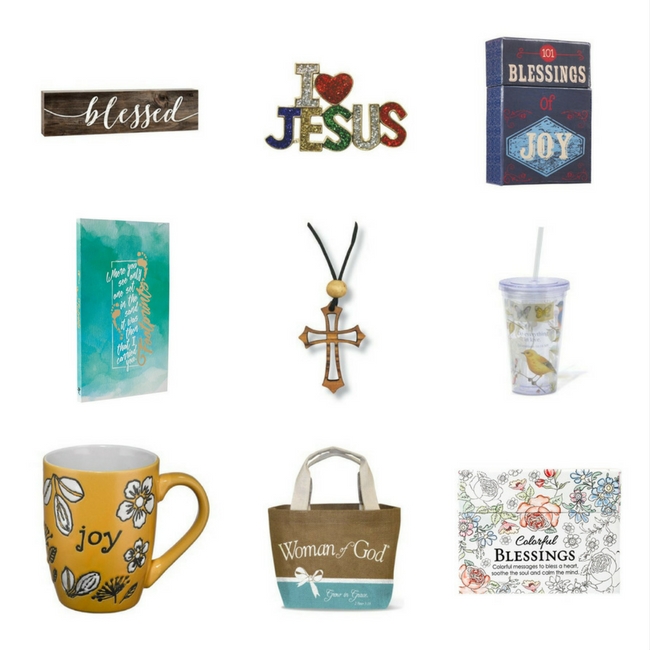 For the friend who makes you feel blessed and thankful everyday, the Blessed Stick Plaque is a simply perfect gift. Designed for small spaces – work desks and mantels etc – this is a great way to show how much you care. The Footprints Journal is another great item for the workspace. Featuring the popular quote 'Footprints – Wherever you see only one set in the sand, it was then that I carried you', this journal is a great reminder that God is always with us.
We all know a coffee lover (or a mug collector!), this 'Joy' mug makes for such lovely gifting. It's sunshine yellow color and message of joy, it's sure to put a smile on their face. For the woman of God in your life, this environmentally-friendly tote bag is simply perfect. It's super convenient for taking to the shops for all those little purchases and comes complete with Scripture from 2 Peter 3:18 – 'Grow in grace'.
The Olive Wood Open Cross Pendant is a beautiful Christian keepsake from the Holy Land. The hand-carved pendant is truly unique and bound to be received with joy. Still in our jewelry category is this I Love Jesus Pin. A bestselling favorite here at Christianbook.com it makes for a great stocking stuffer, or a little faith-filled token of appreciation and love.
For a gift that will inspire from day-to-day, look no further than the 101 Blessings of Joy card set. Featuring messages of blessings such as 'One joy can shatter a hundred griefs' these cards are sure to encourage on any occasion. For creative blessings, look no further than the Coloring Cards Colorful Blessings set. These 44 cards are ready to color and can be used as a bookmark, note card or just used to bless friends and family. Finally, in our $5 finds is this Songbirds Tumbler featuring Scripture from 1 Corinthians 16:14 – Do everything in love. A wonderful message to send a loved one this season.
Gifts Under $10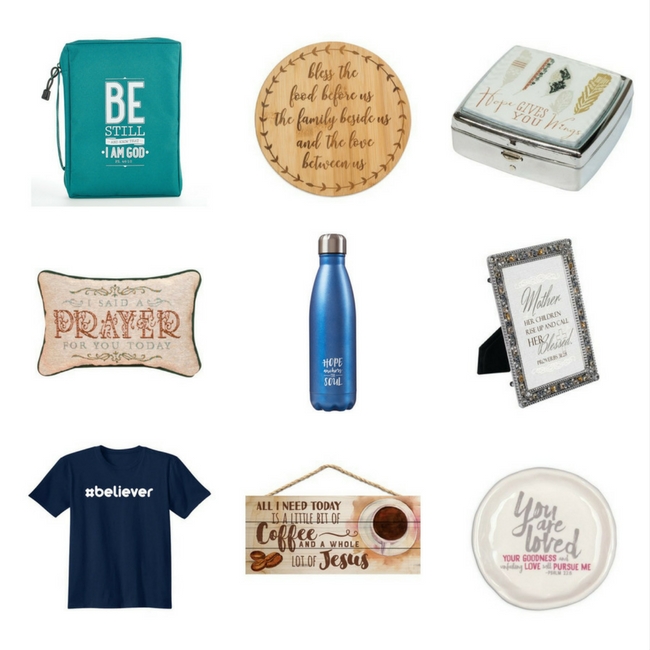 How about a little something to protect their Bible? This Be Still and Know teal Bible cover is a lovely gift that will protect one of their most precious possessions. For a little something for the house proud, how about this I Said a Prayer for You Today pillow? Lovingly weaved, this pillow will be a lovely reminder to a loved one that they are always in your prayers. Know someone who likes to show their faith? We'd recommend this eye-catching Believer t-shirt that will help the spread the news that they are a follower of Jesus.
For the coffee fanatic there is the All I Need Today Is A Little Bit of Coffee and A Whole Lot of Jesus sign – it will be right at home in their kitchen! Next up, we have our Hope Anchors the Soul Insulated Bottle. We love, love, LOVE the design of this bottle and it's message – perfect for the person always on the run. Still in the kitchen we have the Bless the Food Before Us Bamboo Trivet, it will look lovely on display in the kitchen as well as for serving up delicious holiday food!
For a little keepsake they'll love, the Hope Gives You Wings metal and glass pill box makes for a lovely gift. You can even pop a little something inside it for an extra special present. Here's one for mom! The jeweled pewter-finished frame features Scripture from Proverbs 31:28 – Mother her children rise up and call her blessed. Looking for a gift that is both beautifully-designed and incredibly useful? Try the You Are Loved Catch All Tray – perfect for keeping safe all their little bits and pieces.
Gifts Under $25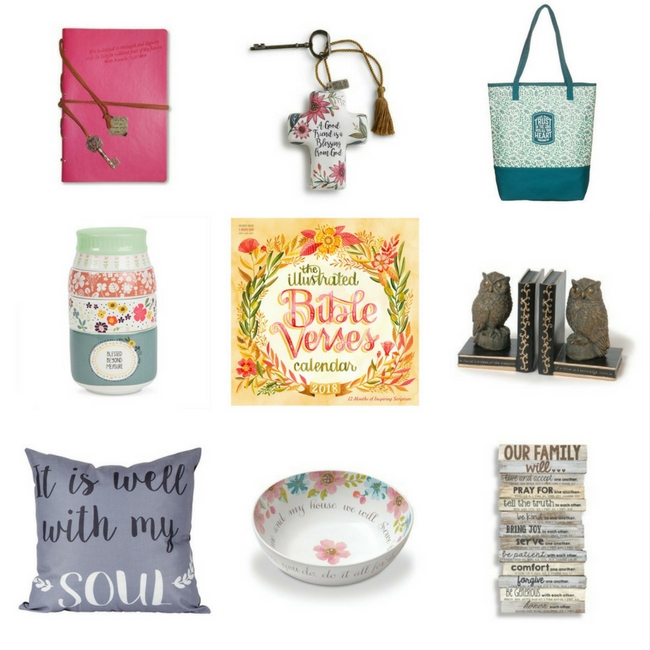 To kick off, we have the lovely, bright pink Proverbs 31 faux-leather journal (it's also available in other colors too!) with leather wrap-around cord and charm.  It's an extra classy gift, that will look right at home at their workspace in 2018. Know a really good home baker? The Blessed Beyond Measure Stacked Measuring Cups are just perfect! To make their home extra-homely, we highly recommend the It Is Well With My Soul Decorative Pillow. Such a lovely message to have on display each and every day.
The next item was a no-brainer for us! The Serve The Lord Serving Bowl has been a bestseller here at Christianbook.com since we first listed it. Around the inside of the bowl is 1 Corinthians 10:31, while around the outside of the bowl features words from Joshua 24:15. To get them ready for 2018, we have the 2018 Illustrated Bible Verses Calendar. This stunningly-designed calendar features hand-lettered Bible verses to inspire. Here's a little something for the very important friend in your life! The A Good Friend is a Blessing from God Artful Cross will show them just how much they mean to you.
For the classy Christian woman is the Trust in the Lord Teal Tote Bag. This canvas tote bag is wonderfully-made and designed and is large enough to hold all the essentials. How could we forget the book lovers?! The Owl Bookends would make an incredible addition to the home library or office and even feature Scripture from Colossians 2:3 – In Christ is hidden all the treasures of wisdom and knowledge.  Finally, in our $25 and under gifts is the Our Family Will… Wall Plaque. It's a little something that will serve as an everyday reminder for the family.
Gifts Under $50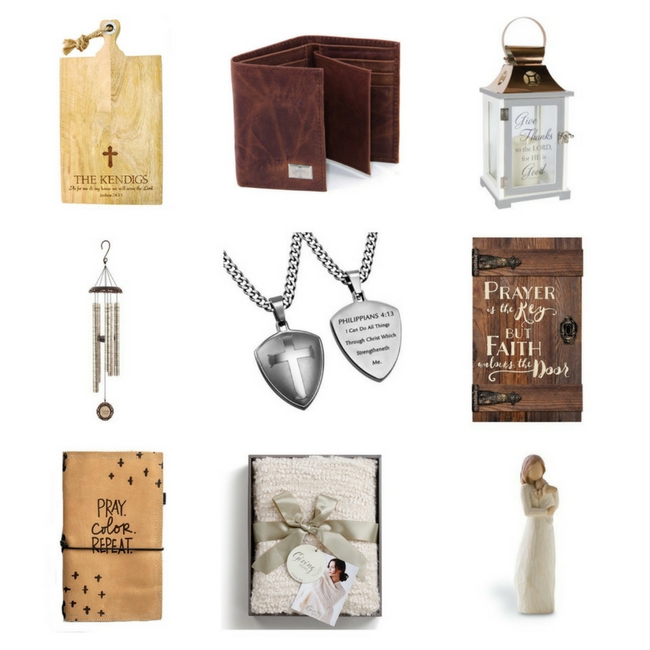 Looking for some extra special gifts this Christmas? Here are some of our favorites under $50. The Mango Wood Cutting Board can be personalized for an extra special touch. It also features an engraved cross and Scripture verse, As for me & my house we will serve the Lord – Joshua 24:15. A little something for the gardener, the Serenity Prayer Wind Chimes will make for an extra special gift. Looking for a gift that will fill a stationery lover with glee? The Pray. Color. Repeat refillable leather journal cover is just the ticket!
The Giving Shawl is a giftable hug just perfect for a close friend, sister, aunt, or family member. Every time it is worn, it will surely convey the special bond you share. For the special men in your life is the Christ My Strength Shield Cross Necklace featuring Scripture from Philippians 4:13. Jewelry not his style? Try this top grain cowhide leather wallet with cross medallion.
Now for the home… the Give Thanks to the Lord LED Lantern has proven extremely popular. Suitable for indoor or outdoor use, it's sure to be a gift that will bring a smile to their face! The Prayer is the Key but Faith Unlocks the Door wall art is simply lovely. With it's handcrafted, rustic design it is lettered with a strong sentiment to bless the soul and warm their heart. Now for a classic gift, the Willow Tree ® Angel of Mine figurine is ideal for the new mum in your life.
(Visited 1 times, 1 visits today)