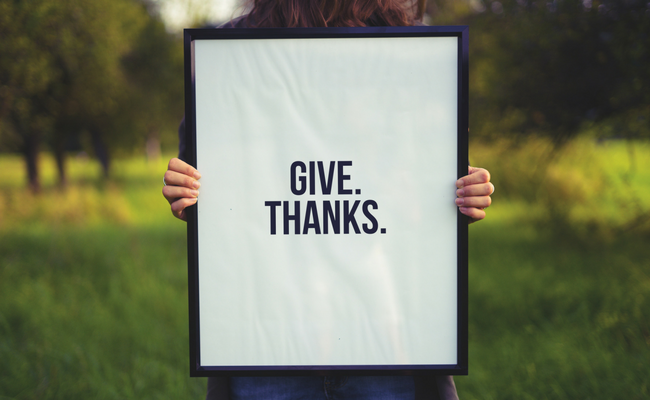 Thanksgiving is a time for reflecting on all things we are thankful for, and as Christians, we have the greatest reason of all to be thankful – being saved by the grace of Jesus Christ. We've selected a few Bible verses to help you give thanks and praise through the Thanksgiving holiday.
But if you ask us, these verses aren't just for Thanksgiving – oh no! They are guaranteed to make you feel thankful and joyous at any time of the year.
And each morning and evening they stood before the Lord to sing songs of thanks and praise to him.
– 1 Chronicles 23:30
I will give to the Lord the thanks due to his righteousness, and I will sing praise to the name of the Lord, the Most High.
– Psalm 7:17
Let us come before his presence with thanksgiving, and make a joyful noise unto him with psalms.
– Psalm 95:2
Do not be anxious about anything, but in every situation, by prayer and petition, with thanksgiving, present your requests to God.
– Philippians 4:6
Oh, give thanks to the Lord, for He is good! For His mercy endures forever.
– 1 Chronicles 16:34
Devote yourselves to prayer, being watchful and thankful.
– Colossians 4:2
In every thing give thanks: for this is the will of God in Christ Jesus concerning you.
– 1 Thessalonians 5:18
The Lord is my strength and my shield; my heart trusts in him, and he helps me. My heart leaps for joy, and with my song I praise him.
– Psalm 28:7
Oh give thanks to the Lord; call upon his name; make known his deeds among the peoples!
– 1 Chronicles 16:8
Since everything God created is good, we should not reject any of it but receive it with thanks. For we know it is made acceptable by the word of God and prayer.
– 1 Timothy 4:4-5
I wash my hands to declare my innocence. I come to your altar, O Lord, singing a song of thanksgiving and telling of all your wonders.
– Psalm 26:6-7
I will praise the name of God with a song, and will magnify him with thanksgiving.
– Psalm 69:30
They sang, "Amen! Blessing and glory and wisdom and thanksgiving and honor and power and strength belong to our God forever and ever! Amen."
– Revelation 7:12
And whatever you do, in word or deed, do everything in the name of the Lord Jesus, giving thanks to God the Father through him.
– Colossians 3:17
Give thanks to the Lord, for he is good. His love endures forever.
– Psalm 136:1
Enter his gates with thanksgiving; go into his courts with praise. Give thanks to him and praise his name.
– Psalm 100:4
(Visited 1 times, 1 visits today)