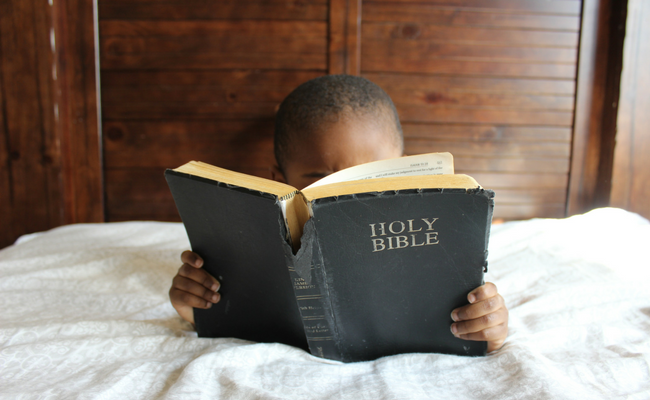 As the number of Bibles for kids continues to grow, it can seem like a daunting mission trying to find the perfect one for your child. There are rhyming Bibles, storybook Bibles, illustrated Bibles, NIV Bibles, KJV Bibles and so many other versions to consider. So, we've trawled our Children's Bible store to bring you our top recommendations for children of all ages – from toddlers to teens!
While we can't list all of our favorites here, these are some of the Bibles we think will help your child on his or her journey with God. For more options, click here to shop our full Children's Bible range by age.

A beautifully designed and illustrated Bible that featuring 36 beloved Bible stories from the Old and New Testaments simply retold for young children. While it's not a board book, the Bible features a padded cover as well as study pages to prevent ripping!
Introduce your toddlers to important characters like Adam and Eve, David and Goliath, Mary and Joseph, and of course Jesus with this Bible storybook. Created by bestselling author Melody Carlson, this Bible is full of lullaby rhymes and precious illustrations that children will love!

Here is a Bible that doesn't just retell the Bible stories – it also includes Scripture from the easy-to-understand Holy Bible, New Living Translation. In addition to the 85 key stories from the Bible, this version features activities, fun illustrations, and prayers.
A first reader your children will truly treasure! This colorful Bible features nearly 300 beautiful two-page illustrations to capture even the youngest child's imagination and heart. Written in a straightforward and engaging language, children are sure to enjoy their time spent reading this collection of stories from the Old and New Testament.
Complete with a year's worth of devotions, this Bible will help children to develop a habit they'll want to keep up for years to come. The New International Reader's Version (NIrV) is easy for young readers to read and understand – as well as being a great stepping stone to the NIV! Other features of this Bible include fun weekend activities, illustrations, and a dictionary.
This Christian Standard Bible is loaded with full-color pages and also features large, easy to read type – making it the perfect Bible for young readers. Study aids throughout will help to expand your child's Bible knowledge and connect to the people, places, and events they are learning about. We think you'll find the CSB's blend of accuracy and readability make it a trustworthy resource for children to study and memorize.
Featuring 24 striking illustrations throughout, this is a Bible that will encourage kids to dig in and grow their faith! Containing the complete Old and New Testament of the King James Version, it features big, easy reading text and the words of Jesus in red letter. Children will learn the stories of how God created the universe, rescued His people from slavery, sent His Son to forgive our sins, and more.
The NIV Adventure Bible is one of our bestselling children's Bibles… and with good reason! Featuring full-color throughout to ensure the stories are even more engaging for young readers. Other features include 'Did You Know?' facts throughout, hands-on activities, a dictionary for looking up tricky words, a color map to help locate places in the Bible and so much more!
Designed for girls aged 13 to 18, this Bible is packed with challenging insights, smart advice and discussion about the realities of life – perfect for helping teen girls grow in faith. It also features character profiles of women in the Bible as well as readings for teen girls by popular authors such as Bethany Hamilton, Christine Caine and more.
Again, this Bible is perfect for ages 13 to 18. It is designed to help discover God's will for all areas of life, including relationships with family, friends, sports, girls and so much more. This Bible features the complete text of the NIV, as well as character profiles of men in the Bible, plus readings by popular Christian authors like Mark Batterson, Kyle Idleman and more.
(Visited 212 times, 1 visits today)