Every now and then we need to pick up a book for the soul. Something that will nourish us, help us grow, and lead us closer to God. There are so many incredible books out there, so we've rounded up ten new releases for different moments in life. Whether you are looking to bring more joy into your life, or grow closer to God – these are the reads for you.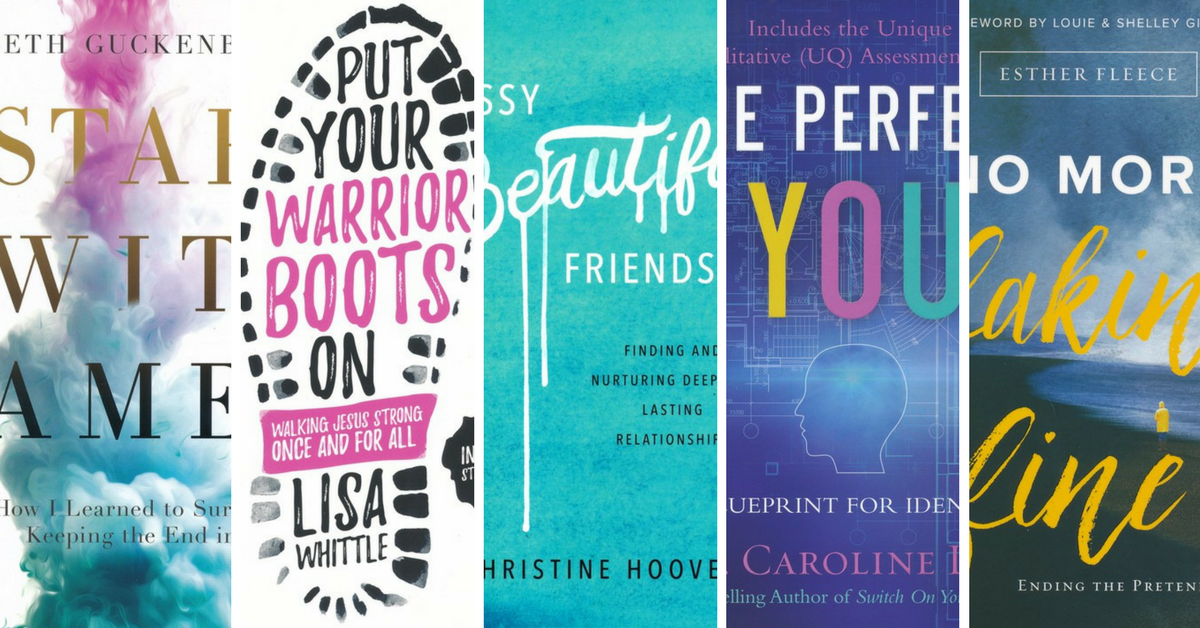 ENERGIZE YOUR SPIRIT…
In Put Your Warrior Boots On, Lisa Whittle shares how women can experience joy and victory in their lives. She helps readers listen to truth and defend themselves from anti-biblical messages, develop passion for defending beliefs, and so much more. This is a book that will help you live the fearless life you've been called to live.
With grace, clarity, and exuberance, Gloria Furman unpacks Paul's glorious vision presented in the Letter to the Ephesians. In the book, you will discover how the blessings we've received in Christ empower us to follow him and establish his kingdom on Earth.
__________________
DISCOVER PURPOSE…
In The Perfect You, Dr Caroline Leaf takes you through seven steps to rediscover and unlock your unique "you quotient" –  the brilliantly original way each person thinks, feels, relates, and makes choices. By finding your "you quotient" Furman believes you can be free from comparison, envy, and jealousy. A must-read!
Weaving heart-warming storytelling and gentle insights, Dr. Flanagan helps you to embrace your truest, worthiest self in Loveable. Throughout the book, he invites you to remember the name you were given before all other names… Loveable.
__________________
DRAW CLOSER TO GOD…
Millions of Christians say "Amen" every day, but few of us realize what richness and depth is packed into this sacred phrase! Learn why the word (translated "so be it") was often used by God's people at the beginning of their prayers, and how it can anchor your spiritual conversations in the assurance of God's sovereign wisdom.
Looking at various aspects of loneliness, Lydia Brownback reminds readers of God's power to redeem our loneliness and use it in our lives to draw us to himself. Ultimately, she helps us see that even when we feel misunderstood, forsaken, or abandoned, we're never really alone. God is always with us, and only he can meet all of our needs in Christ Jesus.
__________________
CONQUER ISSUES…
How are you doing? Do you feel pressure to answer "fine" all the time, whether you're really OK or not? Fleece believes this common impulse is misguided and equips Christians with tools to honestly communicate and cope with life's pain, grief, and trials. Discover prayers that God will never ignore, silence, or waste—by learning the biblical language of lament.
How can you stop the negative thoughts and find some peace? Popular author and speaker Jennifer Rothschild shows you how to chill out by letting your soul rest in God, look up and let Him fill you with hope every day, and press on by finding the strength you need to get through tough times.
__________________
EXPERIENCE JOY…
With a flexible, non-dated structure, Only Love Today is perfect to pick up at any time of the year and find hope and encouragement to address your current challenge or need – family, parenting, relationships, finding peace in a stressed out world. Stafford offers readers strength and vision for a new and more connected way to live. This is a timeless book of inspiration to remember and live for what really matters.
Do you find it challenging to create and keep meaningful friendships? Popular blogger, Christine Hoover offers women a biblical foundation for these important relationships; gives you practical tools for cultivating and deepening them; tells stories that remind you that messiness is normal; and more. A fresh vision for intentionally and purposefully investing in this God-given role.
(Visited 1 times, 1 visits today)