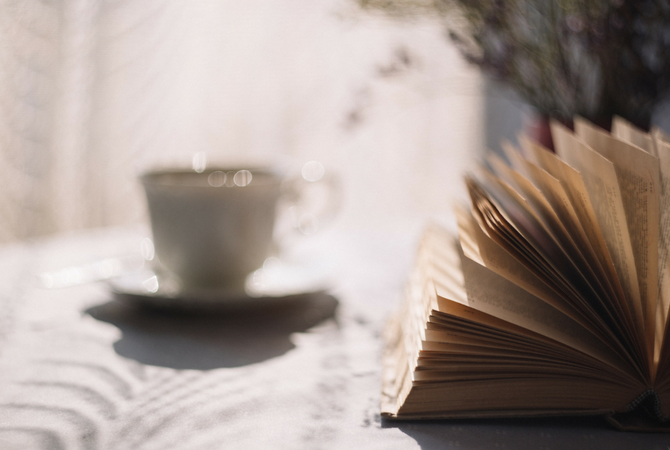 These lazy, hazy summer days need one very important thing – a really great read. If you're feeling stuck selecting your next book, do not fear! We've asked our resident bookworms here at Christianbook.com to select their top picks.
From brand new Christian releases to classic reads, you're bound to find something to suit you here.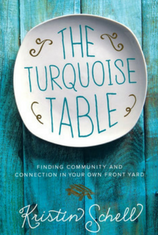 The Turquoise Table is one part a study on building community and friendship, one part a hostess guide on hospitality, and one part recipe book. Feeling disconnected from her neighbors and frazzled from a too-busy life, Kristin Schell decided to put a picnic table in her front yard, paint it turquoise and invite people over for casual conversation and low-key treats.
I don't have a picnic table or a yard to put one in, but Kristin's principles for connection apply regardless of whether you live in an apartment downtown or a house in the suburbs. Facilitating community doesn't have to be stressful or a big show, it can happen right where you are.
-Amy, Christian Living Editor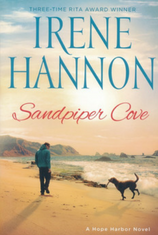 The story is touching, heart-warming, and positive, with a smooth, even pace. The perfect book for beach reading or relaxation. Sandpiper Cove has a little bit of everything: romance, suspense, humor, great characters, Christian messages, and a sense of hope. It is the third installment in the series, so if you're looking for more Summer reading, you can add two additional books to your list – Hope Harbor and Sea Rose Lane.
If you enjoy more action and suspense, Irene Hannon offers that as well. Check out her Men of Valor series – Buried Secrets, Thin Ice, and Tangled Webs. Hannon is one of those gifted writers who can weave a story equally well in more than one genre!
-Ann, Internet Copywriter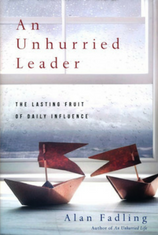 In An Unhurried Leader, Fadling continues the work he began in An Unhurried Life as he extends a gentle and gracious invitation out of hectic and hurried leadership that leads to burnout, and into a transformed and overflowing leadership model that leads to fruitfulness and joy. Combining biblical illustrations, personal example, and hands-on leadership insight, he sets forth a new leadership mosaic that encourages leaders to adopt a state of soul that is set by the pace of Jesus–the pace of grace. For anyone in a position of influence–parent, CEO, co-worker, pastor, friend, neighbor–who is seeking to lead from a place of abundance and rest rather than deficit and busyness, this book is a must read.
-Catherine, Academic and Church & Pastoral Editor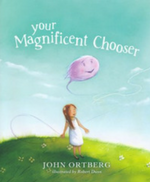 Your Magnificent Chooser features sweet illustrations by Robert Dunn and a rhyming text by pastor John Ortberg that kids will enjoy hearing and reading. Through the friendly character of the Chooser, Ortberg introduces kids to an important idea–the will. He shows readers how their Chooser can take them to fun places, help them make friends, be kind, and how to look for God's Chooser when we don't know what to do. Reading this book together will give parents and kids an opportunity to talk about choices in a fun and engaging way as they imagine their own curious Choosers helping them every day.
-Erin, Children's Editor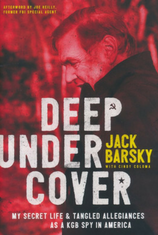 I love a good spy story, especially this improbable but true memoir that reads like a novel! A prize-winning East German graduate student, chemistry professor, and believer in the Communist ideology, Albrecht Dittrich, was recruited by the KGB. After learning English and extensive spy training in Moscow, he assumes an identity (Jack Barsky) and embeds illegally in life in the United States. One day Barsky received the secret emergency signal to leave and return to the Soviet Union. Discovering his allegiance had shifted and unwilling to leave his young daughter and wife, Barsky ingeniously figures out a way to remain–and live. Not only do Barsky's views of American democracy change, his perceptions of unconditional love and Christianity also changes to the positive. This page-turning and sometimes funny book should come with a warning–you might lose sleep wanting to finish it!
-Maryl, Church supplies/VBS Editor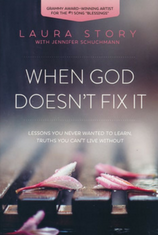 Like Laura, I used to believe that if I did all the right things for God, then he would do the right thing by me. When He wouldn't do that, I'd get disappointed and sometimes even mad at Him. But I've come to realize that even at my best I'm still undeserving of His favor…we all are. But He loves us anyway. I've learned that we can experience joy even when He doesn't give us what we want because He is a good Father and He always has a plan. Laura's story is a beautiful example of what Isaiah 55:8 is all about… "For my thoughts are not your thoughts, neither are your ways my ways…" His ways are always higher. I'm grateful for that.
-Mary, Email Coordinator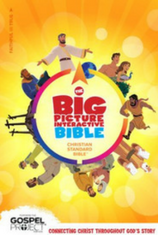 The CSB Big Picture Interactive Bible is an excellent resource for kids. The first things that caught my eye were the vibrant full-color pictures, illustrations, maps, and fun facts scattered throughout its pages. It made me want to read more! I was also impressed to find that it contains the entire text of the Bible in the CSB (Christian Standard Bible) translation.
The CSB Big Picture Interactive Bible will help children to enjoy reading the Bible. It makes for a far more interesting experience for them as they discover new facts and pictures that enable them to understand God's Word more clearly.
-Katie, Bible Editor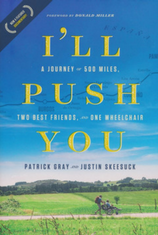 I have to confess that I get a little lump in my throat whenever I think about this story. Patrick Gray and Justin Skeesuck have been friends since they were children. They've done everything together and stayed close through all the big life changes of college, work and marriage. When the unexpected happens and Justin is diagnosed with a progressive neuromuscular disease, Patrick still stays by his side. And when Justin shares his dream of journeying the 500 mile Camino de Santiago–a spiritual pilgrimage through the mountains of northern Spain–Patrick volunteers to push his wheelchair-bound friend.
What follows in I'll Push You is an epic story of endurance, friendship and faith. Their six-week odyssey pushes Patrick to the limits, physically and emotionally. Along the way, they meet other travelers who provide assistance just when it's needed. I'd like to travel the Camino de Santiago myself someday, so I have an enormous amount of respect and a bit of awe for these two guys who made the journey together.
-Amy, Christian Living Editor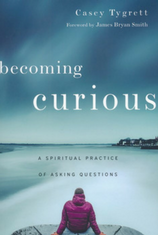 Reflective. Penetrating. Refreshing. Enduring. These are all words that sum up pastor and spiritual director Casey Tygrett's Becoming Curious. Tygrett winsomely and humbly invites us to let go of our own expectations, plans, or desires in order to see the world with childlike wonder. Full of profound wisdom and contagious passion, Becoming Curious illuminates the essential spiritual discipline of asking questions, demonstrating through Scripture and story how a little curiosity opens up new ways of knowing God and knowing ourselves well.
-Catherine, Academic and Church & Pastoral Editor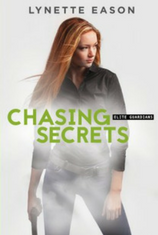 Chasing Secrets is the fourth installment in the Elite Guardians series. In this book, Haley–one of an all-female team of bodyguards–is being targeted. But who's behind it? Is it the drug dealer whom she enraged while protecting a youth…or those who murdered most of her family back in Ireland? Secrets keep slipping out everywhere as the bullets fly.
Lynette Eason turns out strong, savvy, clever female leads and engaging male allies. Her plots are multilayered, with plenty of gut-wrenching twists and surprises to keep you guessing. But there are also healthy amounts of Christian principles (issues like loyalty and forgiveness) interwoven in her stories.
If you enjoy an action-packed thriller with a touch of romance, friendship, and family values, you'll love all the books in this series – Always Watching, Without Warning, Moving Target, and the soon-to-be-released Chasing Secrets.
-Ann, Internet Copywriter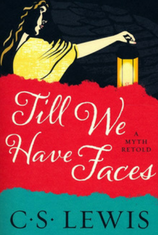 C.S. Lewis' retelling of the myth of Cupid and Psyche has stayed with me, even though I read it several years ago. The themes explored through the character of Orual–love that won't let go, suffering, and a longing for justice–are themes that bear resonance today. You don't have to be an ancient mythological queen to appreciate the retelling of this story; you just have to be human and willing to admit your fallibility. When I feel tempted to judge others without knowing the whole story, or I try to hold the people I love too tightly, I remember Orual, and her quest for an answer.
-Amy, Christian Living Editor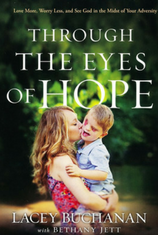 Lacey and Christian first came to my attention on my social media feed with a short video. She's holding him in her arms while also holding up flash cards telling their story. Lacey shares how Christian's laughter disarms strangers who are uncomfortable and sometimes unkind regarding his facial appearance with deformities. His giggles endear them to him, which is evidence that love conquers adversity. I have added Through The Eyes of Hope to my summer reading list for its inspiration regarding the power of love and laughter, the unpredictable journey of life and the faithfulness of God through everything we face.
-Maryl, Church supplies/VBS Editor
(Visited 180 times, 1 visits today)