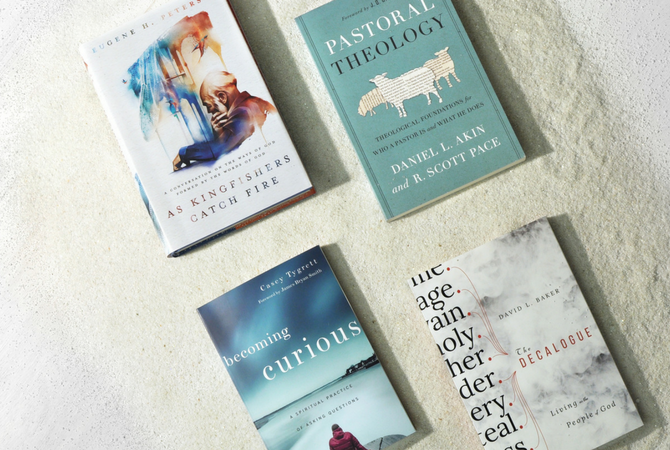 Summer… for some people this season is indicative of a break from school for kids and weekend getaways. For those in the church, summer can often be an odd time of year. Church attendance can be sparse while events and programs within the church can be few and far between. Often ministry leaders will view the summer as a time to recast vision or fill the quiet with busyness – because we all know busyness in ministry is familiar!
But why not slow down? Why not fall into the rhythm of summer within your own life? Why not claim this season of warmth and rest for personal soul care and spiritual formation?
As the academic and church & pastoral editor, many books cross my desk. Some classic, some new. So, pastors and ministry leaders, if I could pick just four books to recommend to you this summer, I would suggest the following.
Get ready to slow down, savor, and be enriched with these summer pastoral picks!
Draw closer to Christ and discover not only how to be a pastor, but also how to be a human being through the compelling life and words of a remarkable man. In this never-before-published collection of work, fellow pilgrim Eugene Peterson illuminates the world of Scripture. He guides readers alongside Moses, Isaiah, Solomon, Peter, Paul, John, and other flawed but faithful God-followers in order to discover how to live out the good news of the Word made flesh.
Combining strikingly beautiful prose and deeply grounded insights, Peterson develops a coherent and connected biblical imagination that invites readers into a richer, truer, and more vibrant spirituality in the Christ way.
Pastor and spiritual director Casey Tygrett winsomely and humbly invites us to let go of our own expectations, plans, or desires in order to see the world with childlike wonder. Full of profound wisdom and contagious passion, Becoming Curious illuminates the essential spiritual discipline of asking questions. Tygrett demonstrates through Scripture and story how a little curiosity opens up new ways of knowing God and knowing ourselves well.
In this indispensable volume on pastoral ministry and theology, Daniel Akin and R. Scott Pace construct a theological framework for pastoral ministry that is is biblically derived, historically informed, doctrinally sound, missionally engaged, and contextually relevant. Desiring to provide stable and nourishing theological foundations for pastoral life and ministry, Akin and Pace formulate a theological understanding of the pastorate that will equip aspiring pastors to discern and pursue their calling, challenge younger pastors to build on ministerial truth instead of ministerial trends, and inspire seasoned pastors to be reinvigorated in their passion for Christ and his church.
Reconsider the foundational place of the Decalogue in Christian personal and public ethics with David L. Baker's rare and invaluable reflection on the centerpiece of Mount Sinai – The Decalogue. Baker comprehensively surveys the field of biblical scholarship, while still retaining a light and accessible touch that bridges the gap between the scholar and lay reader. In this focused commentary on the Ten Commandments, Baker sets each commandment within its ancient Near Eastern context. He explores and explains the biblical-theological meaning found through their canonical context, and reflects on the relevance and impact of each commandment in light of our contemporary setting.
-By Catherine Fields, Academic and Church & Pastoral Editor at Christianbook.com
(Visited 1 times, 1 visits today)