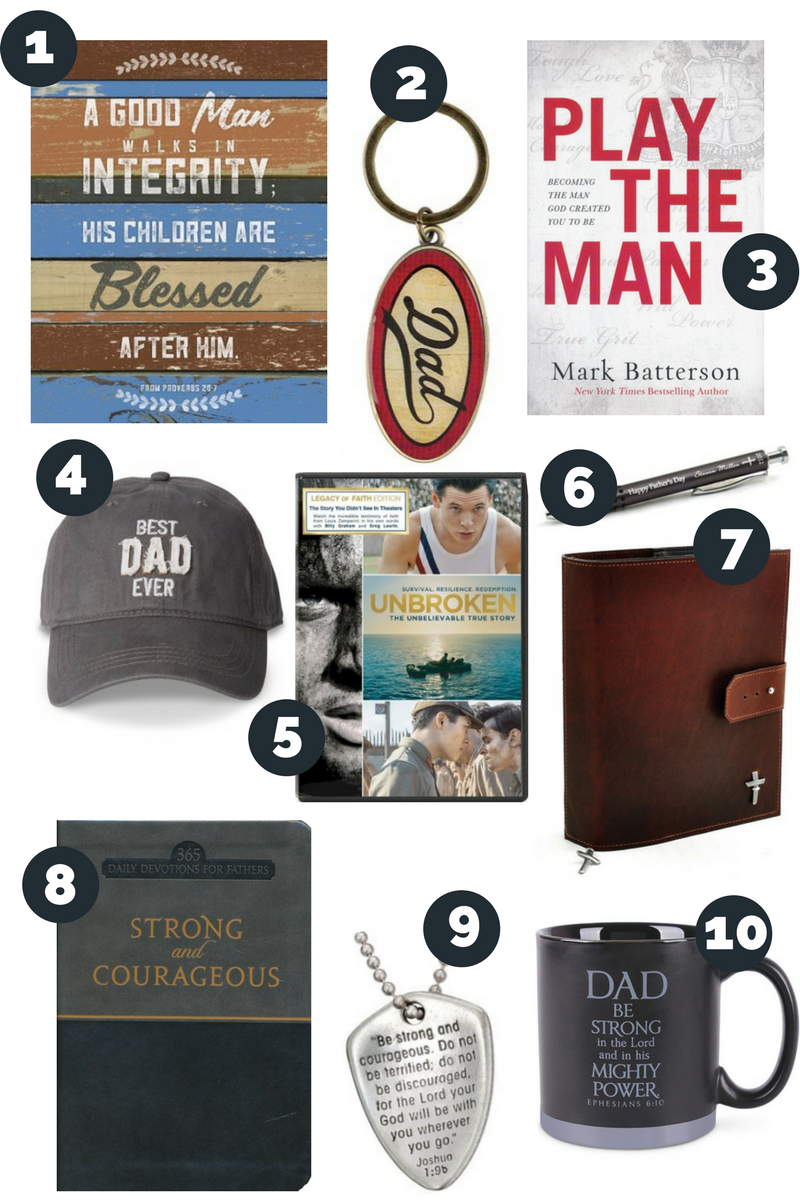 Finding the perfect gift for dad this Father's Day (June 18th) doesn't have to be difficult! Whether he's a sporty dad, a coffee-loving dad, an outdoorsy dad, or a bookworm dad – we want to help you find the perfect gift. To get you started, we've gone ahead and browsed thousands of items to bring you our top picks for Father's Day 2017. Now, if you don't find something here, fear not! You most definitely will over on our Father's Day Gift Guide.
1.A Good Man Walks in Integrity Plaque –
This wall plaque is a perfect reminder of what a blessing your father is to you and your family. A perfect edition to his garage workroom, office space or just on display for all to see in your home.
2. Dad Keyring –
This may be a little gift, but it sure is perfect. This vintage style keyring also features scripture verse from Proverbs 16:9 one one side – 'A man's heart plans his way, but the Lord directs his steps.' – he's sure to love it.
3. Play The Man by Mark Batterson –
This new book from Mark Batterson is perfect for the man who loves to read. Combining inspiring stories with biblical insights, Batterson unveils the seven virtues of manhood to help your dad fulfill their calling as a godly man. A real must-read for the modern man!
4. Best Dad Ever Cap –
What dad doesn't love a good baseball cap?! With this cap he can go out and show the world how loved he is!
5. Unbroken –
This movie is the triumphant tale of true American hero, Louis Zamperini. If your dad hasn't already seen this, he's sure to appreciate Zamperini's story of survival, endurance and his life-changing encounter with God. A great gift for the movie buff.
6. Personalized Father's Day Pen –
This perfect little present can be personalized with his name + a Happy Father's Day message… who needs a card when you can say Happy Father's Day with a practical pen!
7. Leather Adjustable Bible Cover –
A little something to keep one of their most valuable items protected. This is a super trendy leather cover that will last them a lifetime – you really can't go wrong.
8. Strong and Courageous: 365 Daily Devotions for Fathers –
We LOVE this little book of devotions. This elegant slim volume of daily readings, includes a Scripture verse, a short meditation, and a brief prayer. It's a classy book that he can turn to for everyday inspiration.
9. Shield of Faith Pewter Pendant –
A wonderful, timely reminder for dad that God is always with him, no matter what he faces. The pendant reads: "Be strong and courageous. Do not be terrified; do not be discouraged, for the Lord your God will be with you wherever you go." Joshua 1:9b – sure to remind dad of God's faithfulness day in and day out.
10. Be Strong in the Lord Mug –
Does your dad love nothing more than a hot coffee in the morning? Well, this is the gift you need! Both sides of the mug are imprinted with Scripture quote from Ephesians 6:10.
(Visited 1 times, 1 visits today)