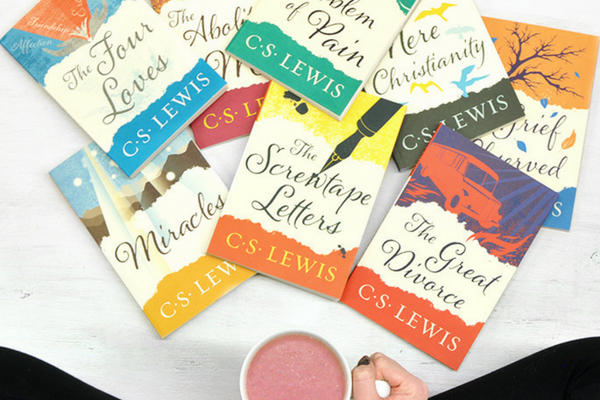 There are few more famed Christian authors than C.S. Lewis. A writer who captured the imaginations of children across the world with his fictional tales of Narnia. But, have you read C.S. Lewis' spiritual works? Books such as Mere Christianity and The Four Loves are marvelous reads about faith and growing as a Christian. Best of all? They're still relevant today.
With the recent repackaging of C.S. Lewis classics, we thought we'd revisit these great reads…
In Mere Christianity, C.S. Lewis explores the common ground upon which all those of Christian faith stand together. A powerful apologetic for the Christian faith that proves time and again to be a great read for believers and non-believers alike.
A brilliant satirical piece, The Screwtape Letters entertains readers with its ironic portrayal of human life from the vantage point of Screwtape, a highly placed assistant to "Our Father Below". The book is a masterpiece and does a superb job of addressing common theological issues – most importantly temptation and the triumph over it. A highly entertaining and engaging read from the moment you turn that first page!
This Christian allegorical tale is an exploration of good and evil, all told from the setting of a bus ride from hell to heaven. In The Great Divorce, C.S. Lewis expertly weaves a story that is vivid in its descriptions and highly imaginative – as we've learned all C.S. Lewis works to be! It may be a small book, but boy, is it a powerful read.
It's a question often asked… 'If God is good and all-powerful, why does he allow his creatures to suffer?'. In The Problem of Pain, C.S. Lewis explores this question in more detail, arguing that pain and suffering is not reason enough to be an unbeliever in a good and powerful God. A must-read if you've ever asked yourself this question.
Perhaps one of C.S. Lewis' most emotional works, written after his wife's tragic death. A Grief Observed is Lewis' honest reflection on the issues of life, death and faith in the midst of loss. Many authors have since explored the topic of grief and faith – but few can rival this classic.
This is perhaps one of C.S. Lewis' most lauded – and widely debated – works. Having initially been delivered as a series of three lectures, The Abolition of Man is a reflection on education and the necessity of instilling within our students universal values such as honor and courage. As important a read now as it was in the 1940s.
In The Four Loves – one of his most famous works of nonfiction – Lewis explores the four kinds of human love. Identifying these as affection, the most basic form; friendship, the rarest and perhaps most insightful; eros, passionate love; and charity, the love of God. Lewis continues to delve into how love works in our lives and eventually allows us to be closer to God. Just a beautiful read that will fill you with warmth… and love!
So there you have it, just a few reasons why C.S. Lewis will forever be one of the greatest literary Christians in history. If you're bookshelf is missing any (or all of these) reads – you know what to do!
(Visited 1 times, 1 visits today)