Many clamor to Twitter, Instagram and Facebook on Thursday to reveal nostalgic old pictures of themselves and their friends. Being the reminiscent type, we at CBD would like to introduce you to some of our old friends. On Thursdays, we'll introduce you to a theologian. These throwback posts are meant to help Christians experience the legacy that has been left to us to learn from and build upon. If you like this or learned something, let us know!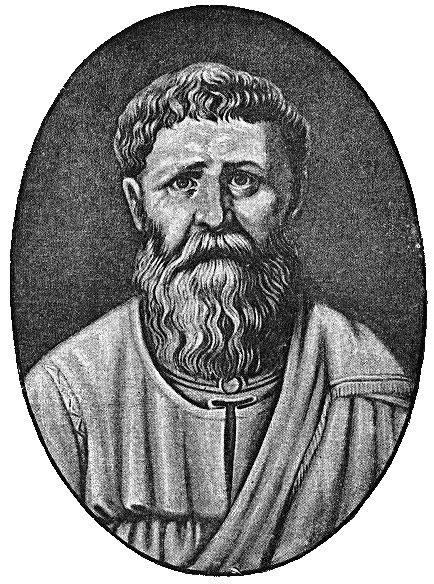 Our fruit pilfering friend, Augustine, was born in November 354 CE  and died shortly before the Vandal's besieged his hometown of Hippo in 430 CE. Augustine is the premier theologian of the early church, and his writings have shaped much of Western philosophy, and theology.  For Catholics he is considered the patron saint of brewing, theologians, and the allever of eyesores. However for Protestants Augustine is often better known as a theological fore-runner to the Reformation, with his writings capturing the theologians of that generation, moreover his works are still being studied in Universities and Seminaries today.
The most retold story of Augustine comes from his Confessions, which is largely considered the most influential autobiography ever written, in which Augustine amongst his childhood hooligan friends vaulted a fence to steal some pears, only to throw them away moments later. This short tale is followed by a penetrating digression on the nature of sin. He discloses, "I had no motive for my wickedness except wickedness itself."  The pilfering of the pear is seared into Augustine's mind as the moment that captured his sinfulness, in addition it recalls the mind to the Garden of Eden.
In his journey to Christianity, Augustine, a master of rhetoric, sought out the preaching of Ambrose, who himself was a skilled orator, who introduced him to the vast depth of the Christian faith. Shortly after, in his autobiography, Confessions Augustine tells of hearing a small youthful  voice telling him, "Tolle, Lege! Tolle Lege!" (Take up and read!). He took this as a divine summons, opened up and read The Book of Romans. His life was never his own.
 As a theologian, Augustine was most at home when dwelling on the majestic nature of the Trinity. His book De Trinitate underscores that contemplating the Trinity is the purpose for all actions, and the key to everlasting joy and satisfaction: "For this contemplation is held forth to us as the end of all actions, and the everlasting fullness of joy. For we are the sons of God; and it does not yet appear what we shall be: but we know that, when He shall appear, we shall be like Him; for we shall see Him as He is. For . . . this it is which we shall contemplate when we shall live in eternity."
Augustine, a gift to the church, we commend him to you, "Tolle, Lege!"
Five Books By Augustine:
Three Books on Augustine:
(Visited 1 times, 1 visits today)