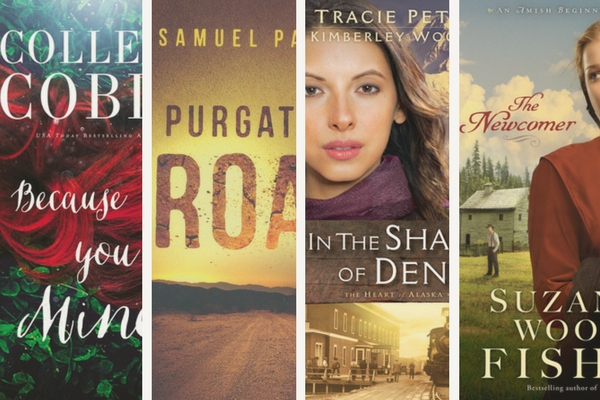 The new year brings with it a whole host of new Christian fiction – whether you're a fan of historical fiction or contemporary suspense, we've got your next great read sorted. Grab yourself a nice hot cup of coffee, a cozy blanket and turn the page on a new book. 
Because You're Mine, Colleen Coble
A gripping read from start to finish – but, is that any surprise for a Colleen Coble novel?! Because You're Mine follows talented Irish singer, Alanna Connolly, whose life is in turmoil after the tragic loss of her husband. Unsure of who to turn to, Alanna finds herself at risk of losing everything… including her unborn baby. This book has it all – a beautiful setting in South Carolina, a strong female protagonist, unexpected twists and turns in the plot, and don't forget some great Irish slang to add a little color to the story. A definite must read for fans of contemporary Christian suspense novels.
The Newcomer, Suzanne Woods Fisher
Fans of Amish fiction, we see you! This novel takes us back to the very first Amish settlers in 1737 with the story of Anna Konig. As Anna navigates all things new, she finds her heart torn between her fiancee and a charming newcomer. Suzanne Woods Fisher writes in a way that fills your senses, painting in vivid detail Amish life in the new world. The characters will fill your heart and capture your imagination – not to be missed.
Wow! This is one incredible debut thriller from Samuel Parker. The story centers on Jack and Laura, a husband and wife on a day trip out of Las Vegas. Their car breaks down and the couple find themselves stranded in the middle of the desert.  As hope begins to fade, they find themselves rescued by a hermit. Heading deeper into the desert to the hermit's trailer, they find themselves unwilling participants in a much more sinister plot. A kidnapped girl, a serial killer on the loose and a story with no end of twists and turns. This book will have you working overtime trying to figure out how it will all end. Just pure suspense from start to finish.
In the Shadow of Denali, Tracie Peterson and Kimberley Woodhouse
This incredible writing duo are together once again (they penned the wonderful novel All Things Hidden back in 2014)! The first in The Heart of Alaska series, In the Shadow of Denali whisks us back to the Curry Hotel along the Alaskan Railroad in the early 1920s. Peterson and Woodhouse do a tremendous job of taking the reader back in time, with beautiful descriptions of life back in the 1920s. If romantic historical fiction reads are your thing, this is your book.
(Visited 29 times, 1 visits today)